In The Diplomat's Pregnant Bride, A wild weekend gets Gina St. Sebastian pregnant with Jack Mason's child. After knowing about her pregnancy Gina leaves Jack right away and decides to raise the baby alone.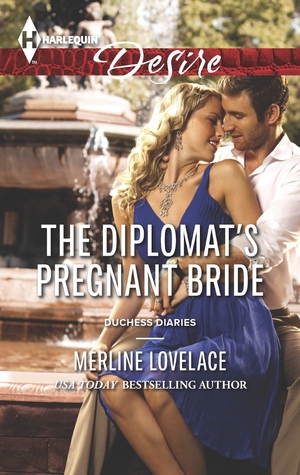 Jack is determined to be a part of the baby's life and wants Gina to enter a marriage of convenience with him for the baby' sake but Gina is totally against the idea and it is upto Jack to convince her that with the fire still burning between them, marriage is going to be the perfect solution
The Diplomat's Pregnant Bride by Merline Lovelace was an enjoyable read with lots of drama and action. The characters had great development throughout the story and it was really easy to like them. Gina St. Sebastian was a great heroine and while she did appear to be shallow in the previous book A Business Engagement, she managed to surprise me in a good way by being strong and standing up to everyone's demands every time. Jack was a little bossy and arrogant but he was still lovable.
Some events did confuse me towards the end like the inclusion of Gina's cousin who literally came out from no where and his dramatic action towards the end
The Diplomat's Pregnant Bride is everything you expect from the desire line and with great writing, an enjoyable story line and lovable characters, The Diplomat's Pregnant Bride never fails to keep you hooked.
Overall The Diplomat's Pregnant Bride is a wonderful read which keeps you hooked throughout.
Book Info:

Published December 3rd 2013 by Harlequin Desire (Book 2274) | Duchess Diaries
A wild weekend changes Gina St. Sebastian's life, but one thing won't change—her marital status. Ambassador Jack Mason, the dashing, arrogant father of her unborn baby, can forget about a marriage of convenience. She's perfectly capable without him. Never mind the heat between them. That's pregnancy hormones!
Jack will deploy his formidable charms to do what's right—marriage for the baby's sake. Yet the more he tries to convince Gina, the more he realizes he wants her as much as he wants his child