In Hunting for a Highlander (Highland Brides #8) by Lynsay Sands, It was a long journey for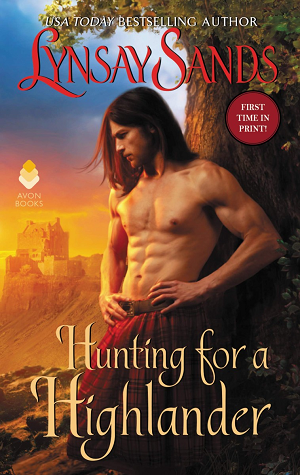 Lady Dwyn Innes and her family before arriving at the Buchanan Keep. And with no promises that she would catch the eye of one of the three Buchanan brothers who are without wives, she isn't sure it was worth the trek inland. Especially once Dwyn sees the competition. There's nothing remarkable about her looks, and she tends to be a bit of a recluse if she's being honest. But with the (severely) altered dresses her sisters insist she wear, Dwyn does unexpectedly catch the eye of Geordie Buchanan, a huge, ruggedly handsome man who seems too good to be true. But as he proves his kindness and ardor for her over and over again, Dwyn begins to hope Geordie might be as smitten with her as she is for him.
'While Dwyn had always accepted that she was plain…well…she hadn't felt plain in Geordie's arms. She'd felt beautiful…and desirable, and even powerful.'
Geordie didn't know he would arrive home to find the woman of his dreams seemingly stuck in a tree in his family's orchard. And that was just the first of many times he would be outsmarted and charmed by Lady Dwyn. It seems, though, as soon as the attraction really begins to flare between them, odd things start happening that shows intent of harming Dwyn. As Geordie and his lady search for answers, he vows to do everything in his power to keep the lass safe. Even at the cost of his own life should it come to that. But with his loyal family and their powerful allies at the ready, Geordie knows he and Dwyn couldn't be in better hands.
"I do believe ye're a very naughty man, m'laird."
"Naughty?" he asked, his eyes twinkling with amusement. "And why is that?"
"Because ye ken what ye're doing to me, and not only persist, but ye're enjoying it," she said at once.
Hunting for a Highlander was a chuckle-inducing, absolutely charming addition to Lynsay Sands' Highland Brides series. Fan-favorite Geordie finally had his turn at finding a forever love. And what a journey it was for all involved!
"God, I love ye, Dwyn Innes," Geordie growled, kissing her neck… "Ye're brave and ye're smart, and ye're funny… Ye're just perfect. I think God surely must have made ye just fer me."
I simply adore Lynsay Sands' highlander stories and always seem to get such a kick out of the imaginative situations she puts her characters into. And poor Geordie and Dwyn were truly put through the wringer here. I enjoyed the overall storyline quite a bit, with some exciting intrigue as the duo came under threat…well, mostly Dwyn, and the antics while all the ladies were vying for the bachelor Buchanans' attention. As could be expected, there was some backbiting and catty moments between the young women which seemed realistic given they were all after Geordie's–and then later his two brothers Alick & Rory's–attention.
Dwyn and Geordie's courtship, while rather unconventional, was filled with their undeniable attraction and a tenderness towards each other that was sigh-worthy. I had to laugh at Dwyn's constant, ahem, wardrobe malfunctions. Some readers may not find it as funny, but I could just picture her well-meaning sisters lowering the neckline and taking in the waist on Dwyn's dresses not knowing the agony (and hilarity) it would cause. But what I loved most about our heroine was her strength–and that she knew her own mind and was not afraid to express her thoughts. Dwyn was played off as an unattractive wallflower by the other women. But once Geordie saw her smile and saw how kind and spirited she was, she became the most beautiful woman in the world to him. *sigh*
Now our hero we've seen in other books and I know I'm not the only fan who fell for Geordie along the way. I was so happy to see he not only proved his own worth in the Buchanan clan and showed how steady and smart he was, but he also got the attention of the perfect woman for him. Geordie took such wonderful care of Dwyn through their many trials. There were a few times things looked rather bleak for them, but what a stunner of a HEA Sands pulled off for our deserving lovebirds! I think it will wow fans and leave them smiling.
Suspenseful, sensual, and with a fun thread of humor woven in, Hunting for a Highlander was another rock solid novel from one of my go-to authors, Lynsay Sands. Definitely recommended.
Book Info:

Publication: January 28th 2020 | Avon | Highland Brides #8
Four Buchanan brothers have found their brides…only three more to go in this scintillating romance from New York Times bestselling author Lynsay Sands…
Lady Dwyn Innes feels utterly out of place among the eligible women who've descended on Buchanan Keep, vying for the attention of the last unmarried brothers. She isn't long-legged and slender like her sisters, or flirtatious and wily like other lasses. Since her betrothed died, Dwyn has resigned herself to becoming an old maid. Yet a chance encounter with a stranger in the orchard awakens her to a new world of sensation and possibility…
After weeks away, Geordie Buchanan returns to find his home swarming with potential brides, thanks to his loving but interfering family. But one lass in particular draws his attention from the moment he spies her climbing a tree. Lady Dwyn is not nearly as plain as she thinks. Her lush figure and eager kisses delight him, as does her honesty. But the real test lies ahead: eliminating a hidden enemy, so that he and Dwyn can seal their Highland passion with a vow.