Fortune's Fresh Start (The Fortunes of Texas: Rambling Rose): Michelle Major begins a new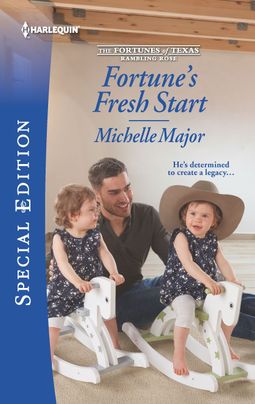 Fortune family saga with a sweet, heartwarming story of a perfect couple.
Becky Avrill and her husband Rick decided Rambling Rose, Texas was the perfect place to set down roots and raise a family. They were both thrilled when the home pregnancy test showed positive. Becky's joy was shortly to be destroyed when Rick died in an accident early on in her pregnancy.It's two years later and Becky and her sixteen-month-old twins, Luna and Sasha, are doing just fine. Becky, a pediatric nurse, is looking forward to the opening of the new Rambling Rose Pediatric Center so she brought her twins to the ribbon cutting ceremony. That's where she meets him – real estate developer Callum Fortune. He stopped to help her with the twins' stroller. What an attractive man! What a surprise when he continues to visit her at the center. This guy is perfect! He's great with the twins and makes Becky feel alive again. Whoa! Maybe he's not so perfect after all because he insists he won't be staying in Rambling Rose. He says he will move on when his projects in town are finished. Could Becky change his mind? She sure hoped so since she was falling for him.
Fortune's Fresh Start by Michelle Major is the first book in the Fortunes of Texas: Rambling Rose series. This is a great introduction into the branch of the Fortune family who has moved to Texas from Florida. It was great getting to meet almost all of the family. I love series with close-knit families who love and support each other. I enjoyed riding along on Becky and Callum's HEA journey. This couple seems to be made for each other and the twins are adorable. This book is a super beginning to this new series.
Book Info:

Publication: January 1st 2020  | Harlequin Special Edition | The Fortunes of Texas: Rambling Rose
There's a new breed of Fortune in town…
In the small Texas burg of Rambling Rose, real estate investor Callum Fortune is making a big splash. The last thing he needs is any personal complications slowing his pace—least of all nurse Becky Averill, a beautiful widow with twin baby girls. Callum's past has convinced him he's not cut out for commitment. Yet, drawn to Becky in ways he can't understand, Callum is torn between moving on…and moving in!