In Sinful Pleasures by Anne Mather, Recuperating from a recent illness, Megan Cross should be looking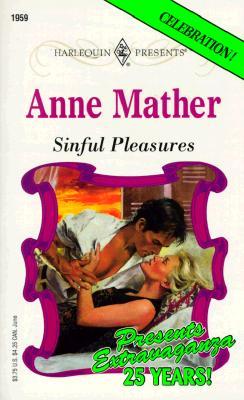 forward to a month on San Felipe island in the Caribbean. But the invitation from her stepsister Anita is suspicious considering Megan has been away for sixteen years with no contact. At the time she didn't part on the best of terms with her stepfather Ryan, but she soon finds out that he has now taken very ill himself.
'There was an aching inevitability about it, she thought, as if he, as much as she herself, had no control over what he was doing. It seemed that ever since she'd come back to San Felipe they'd been heading for this moment…'
The minute Megan and her 'step-nephew' Remy, who is six years her junior, are reunited, her emotions are all over the place. He's grown into a sensual, handsome man who seems intent on getting to know her better. But complications with the family business, a hotel on the island, and her stepfather's sickness wreak havoc on Megan's ability to think clearly. What in the world should she do about her newfound attraction with Remy? And what mystery from the family's past is causing the tension between her and Anita?
"This isn't anything to do with anyone else. It's to do with us, that's all. With the fact that you want me as much as I want you."
Sinful Pleasures was truly Vintage Harlequin. With a soap opera-esque plot, fiery dialogue, and physical attraction aplenty, Anne Mather followed that famous formula that turned these love stories into household names.
This reissued classic from 1998 allowed me to reminisce about the Harlequins I used to 'borrow' from my mom and sisters, like I'm sure many young readers have done. Sinful Pleasures may seem a bit cookie-cutter to some, but this was the style of romance that started me off as a fan of the genre. You knew going into it that there would be drama (or, okay, maybe melodrama!), some steamy scenes, and a lovely happily-ever-after that would make you sigh. Winning combination, right?
As far as our hero and heroine and their situation here, they fit pretty perfectly into that mold. There were a lot of family issues Megan and Remy had to handle, which led to some awkwardness between them. That part felt realistic. Some of the conversations between them all, however, were a little stilted and confusing. Especially those between Remy and Megan. So when Remy had several outbursts with her, running hot and cold, I was glad to eventually find out what caused it.
What I think some readers may get hung up on is the fact that Megan and Remy were step-aunt and step-nephew, if you will. They were closer in age than she was to her stepsister Anita, his mother, so the six year age difference wasn't a huge factor to me. It still may seem a bit taboo to some, but as they weren't blood related and hadn't grown up together, as well as having been estranged the last sixteen years, that didn't bother me so much.
Who doesn't love getting swept away with a quick, sensuous romance set in an exotic location? If you're a fan of Vintage Harlequins, I think this one might just do the trick.
Book Info:

Published August 17th 2015 | by Harlequin Special Releases (first published June 1st 1998) |
Falling for a younger man
Megan Cross hasn't been back to the Caribbean island of San Felipe since her parents' ugly divorce and her mother's second marriage. Now her mother's husband is desperately ill and wants Megan's forgiveness for separating mother and daughter. So Megan has returned, to find that much has altered in the intervening sixteen years, not least of all her stepsister's son, Remy.
When they last met he was a nine-year-old to her superior fifteen with a mystery surrounding his parentage. Now he is an incredibly attractive grown man whose teasing makes her shamefully aware of him–an intimacy she knows she should do nothing to encourage.