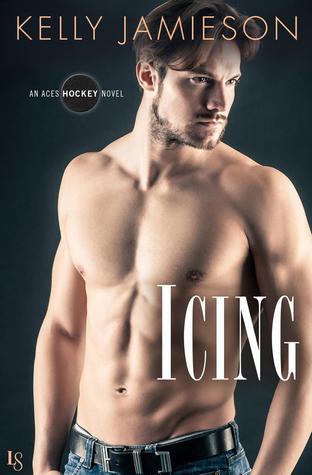 In Icing by Kelly Jamieson, NHL player Duncan Armstrong is done with women who only use him for his money. After dumping his latest money-grubbing girlfriend outside a Tiffany's, he heads to the Sin Bin, a bar run by one of his Chicago Aces teammates. There he meets Amber, a new waitress, who's immediately interested in Duncan.
Amber has her issues with professional athletes because of her NFL father's fall from grace. She tries to stay away from Duncan after discovering he's a professional hockey player, only it's difficult for her since the team often hangs out at the Sin Bin.
Despite his determination to stay away from women, Duncan is drawn to Amber as much as she is to him. Together, she helps him deal with his distrust of women while he helps her overcome her issues with professional athletes.
Having been introduced to Duncan in book one of the series, Game Misconduct, which features Aces Captain Marc Dupuis and Duncan's sister, Lovey, I was looking forward to Duncan's book and it doesn't disappoint. Amber and Duncan were great together. There were a few times I got annoyed with Amber though. Duncan would do something nice, like buy something for her, and Amber would get mad, believing he was trying to flaunt his money. She would then cop an attitude with him. What I liked about it though was that she always realized she was in the wrong and apologized for her attitude. She eventually realizes that it's ok to be independent, but it's also ok to lean on someone sometimes as well.
While this is the second book in the series, it can be read as a stand alone. Having read the previous book, it was nice to catch up with Marc and Lovey, as well as the rest of Duncan's teammates.
If you enjoy hockey romances, I would definitely recommend reading Icing.
Book Info:

 April 19, 2016 | Loveswept | Aces Hockey #2
Duncan Armstrong may be an NHL star, but he's a country boy at heart. His ultimate fantasy is going home with the Stanley Cup, not a gold-digging airhead who aspires to be a trophy wife and nothing more. Newly single and hoping to enjoy a night out with his teammates, he ends up hitting it off with a down-to-earth waitress who's a complete breath of fresh air—until Duncan learns that she's a part-time model. He tries to forget about her, but their sizzling chemistry has him coming back for more.
Amber is working hard to put herself through school, and has zero interest in dating a professional athlete. She's seen firsthand how fame and fortune can mess with their heads—her father's brilliant football career ended in a firestorm of addiction and infidelity. So Duncan's attentions immediately have her on the defensive. Still, there's something different about him. And once she stops trying to freeze him out, irresistible temptation turns into all-consuming passion.