Over the Line by Lisa Desrochers: Lee is bored and lonely. She wants to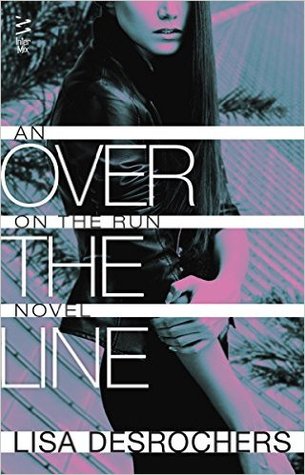 use her graduate degree and get a job, except she can't really list her degree or experience on her resume. Joining witness protection was the best outcome for her and her siblings, except now she's at a loose end. They have mostly settled into their new home, but there isn't much for Lee to do. It doesn't help that she had to walk away from the man she loves, who just happens to be the son of a rival mob family.
Lee also knows she could end her loneliness with Wes, the Marshal assigned to them. He's a sexy, Southern gentlemen who's made it clear that he's interested, despite the conflict of interest. Lee is not sure she's ready to cross that line when everything changes as Oliver makes a not so unexpected appearance.
"Because you tried to kill me!" she shouts, her eyes wide and her expression incredulous.
"You tried to kill me!" I spit back. My anger dissolves with the words and I hang my head. "And I never tried to kill you," I add, lower, defeated.
Oliver needed to find Lee for a few reasons, but she's not sure she can trust him. She knows he has business reasons for hunting her down. After meeting in grad school, they had a clandestine relationship as a means to an end. Neither expected to actually develop true feelings as any relationship would be impossible due to their families, a la Romeo and Juliet.
Lee is now between a rock and a hard place. She has to decide if she can trust Oliver and her feelings, or if it's time to be on the run again now that her family has been found. Her first loyalty is to her siblings, but Oliver's reappearance makes her question just how far she would go to keep him alive and in her life. Both are determined and stubborn with serious trust issues, but their chemistry pulls them together.
"How long are we going to do this, Cheetah?"
She scowls and presses her finger to her lips again, less be quiet and more shut up this time.
I lower my voice. "At some point you're going to have to decide what to do with me."
Over the Line is an engaging, forbidden, second chance romance. Lisa Desrochers builds the tension and anticipation with their battle of wills. Ms. Desrochers creates a diverse and lovable cast of characters in the Delgado family. Fans of Rachel Van Dyken and Cassia Leo will enjoy Over the Line.

*Disclaimer: The U.S. Marshal was named Wes in the ARC, but the Goodreads summary uses the name Sean. 

Book Info:

Publication: April 19th 2016 | InterMix | On the Run #2
The USA Today bestselling author of Outside the Lines once again explores love on the edge in an explosive new romance about obsession, betrayal, and a killer attraction.
Lee Delgado never planned on falling in love with the irresistible Oliver Savoca, son of a Chicago crime lord. Considering that their families are rivals, she knew it could never work. And now that both their fathers have been nabbed on racketeering charges, any real chance at a future with the man she loves has been shot to hell. But a greater blow is yet to come.
Not only does Lee learn that a contract is out on her life, she has reason to believe that Oliver is behind the devastating betrayal. Now she's working closely—very closely—with Federal Agent Sean Callahan to help bring her man down. But however she's come to feel about Callahan, Lee is still deeply, hopelessly, unabashedly in love with Oliver.
Where that fearless love takes Lee next is beyond her control—but the risk is worth every beat of her heart.
Includes an exclusive preview of the next On the Run novel