If You Dare by Jessica Lemmon: Marcus and Lily are competitive co-workers. When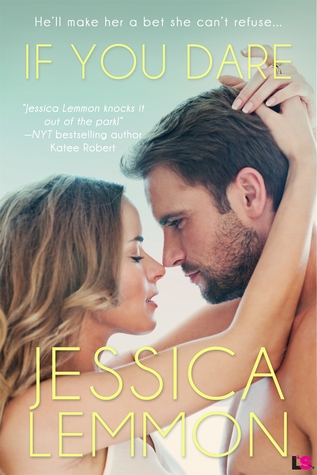 Marcus wins tickets to go to Hawaii, tickets that Lily wants, he makes a bet with her: stay one night in a haunted mansion. If she wins, she gets the tickets. If he wins, she attends the RDS dinner with him, where he's accepting an award and is nervous about making his acceptance speech.
Some of my favorite scenes in the book take place in the haunted house, where Marcus ends up coming to spend the night with her. Throughout the night they hear several unexplained noises and voices, which sends both of them running.
Both Lily and Marcus are spunky, fun, playful characters. I enjoyed their bantering and their interactions. Underneath their fun sides, however, both are struggling with issues. Marcus is absolutely terrified to give his acceptance speech, and Lily, who was burned by an ex that she had worked with, is reluctant to get into another relationship with a co-worker.
The reason I didn't rate it higher was because I felt some things were missing. For example, Lily gives a brief reason to Marcus as to why she's hesitant to date a co-worker, but she never reveals the true depth of Emmett's (her ex), betrayal. If he had known, he probably would have understood her hesitation more. There's also a scene with Emmett where he and Marcus have a confrontation, but it didn't feel right because Marcus didn't know their backstory. Was Emmett disrespectful of Lily in Marcus's presence? Yes, but it didn't feel like it was enough to warrant Marcus's reaction based on what he knew about the pair.
Overall If You Dare by Jessica Lemmon is a good story, filled with humor and just the right amount of steam for the couple.

Book Info:

Publication: July 21st, 2015 | Entangled: Lovestruck |
He'll make her a bet she can't refuse…
Lily McIntire is in the creepiest mansion in town. Alone. At night. Because she's an idiot-and can't ignore a dare from her cocky and infuriatingly hot co-worker, Marcus Black. But she'll be damned if she's going to give him the satisfaction of winning.
Marcus has had a thing for Lily for ages, and he has no intention of losing this bet. His plan? Scare her out of the house, and into his arms. Once there, scaring her turns into protecting her and soon after, into seducing her. And his plan is working…
Lily is having trouble relegating Marcus to the role of "asshat" as easily as before. He came to her rescue, and he's actually funny. Charming. Sexy as sin on a stick. But Lily has a strict no-love-in-the-workplace rule, and even one night of the best sex ever won't make her change her mind. So she's calling everything off…
Surviving a night in the mansion might just be the easy part. Surviving Marcus's increasingly convincing advances is going to take everything she has. Losing is not an option…
NOTE: This title was previously published November 2013 on Flaunt as a novella but has been significantly revised and lots of yummy new scenes added to give readers a full-length category romance full of humor and sizzle