Illegally Yours by Kate Meader: Trinity has dedicated her life to raising and helping her younger sister. She's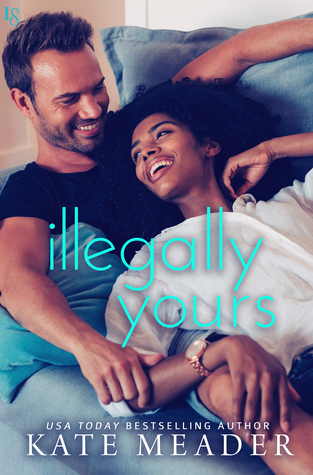 always in Emily's corner, especially now that Emily is going through a divorce. Outside of putting everyone else first, Trinity has a unique career as a sommelier…for whiskey. She's feisty, independent, and keeps things to herself.
Lucas is a sexy, charming divorce lawyer who still has his British accent. He has quite the memory and is the youngest member of a private law firm. He's cheeky, effervescent, and usually the life of the party, and one to pull pranks. It's an effective persona while maintaining distance from his best friends and partners.
Lucas is usually smooth and suave, but meeting Trinity throws him off his game. She recognizes him for the player he is and is attracted in spite of herself. They flirt, banter, and can't stop thinking about each other until they figure out he is her soon to be ex-brother-in-law's divorce attorney.
"I can't ignore reality. You're trying to destroy someone I love."
"I'm trying to keep the playing field level. Everyone deserves legal representation."
"That's easy for you to say. You get paid and don't have to witness the mess. I'm left behind to pick it up. You can't seriously think I could forget about that."
Lucas may not like his client, but he's going to do his best even though it puts him and Trinity on opposite sides. Despite their differences, they end up together a lot and have a chance to see beneath the surface. They should be no more than a hot fling, but things are complicated and their feelings grow deeper.
"I was just trying to be funny in the face of bizarre circumstances. You're the enemy, remember?"
I wonder if she really thinks that or if she's trying to convince herself because she's afraid of how amazing it could be between us.
"Enemies make the best lovers, Trinity."
Illegally Yours is entertaining, emotional, and sexy. Kate Meader created an intriguing world with bromance, family, friendships, conflict, romance, and sizzle. Ms. Meader developed great characters and continues to tease the story for the last bachelor in the law firm. Illegally Yours can be read as a standalone in this series. Fans of Lorelei James and Beth Ciotta will enjoy Illegally Yours.
Book Info:

Publication: January 22nd 2019 | Loveswept | Laws of Attraction #2
Rule #1: Never fall for your client.
Rule #2: Never fall for your client's fiercely protective, smoking hot sister-in-law.
I'm the kind of guy who believes that everyone deserves the best legal representation money can buy—which just so happens to be me, Lucas Wright. Give me your henpecked, your cuckolded, your irreconcilable differences yearning to break free! And if you're the bad guy in your marriage, that's cool too. Your green is as good as anyone's.
Tell that to Trinity Jones. It's my job to destroy her sister—the soon-to-be ex-wife of my a-hole of a client—and Trinity's "big sis" instincts are dialed up to the max. I admire that. I admire her. But she won't stop me from representing my client to the best of my ability.
Not even if my chemistry with Trinity is undeniable. Not even if we can't keep our hands off each other. Not even if she injects life into a heart assumed to be long dead.
Because when faced with a choice between love and duty, the job will always win—or at least that's what I thought before I met Trinity . . . and suddenly conflict of interest never felt so right.