In Old Dog New Tricks (The Dogfather #9) by Roxanne St. Claire, Veterinarian Daniel Kilcannon has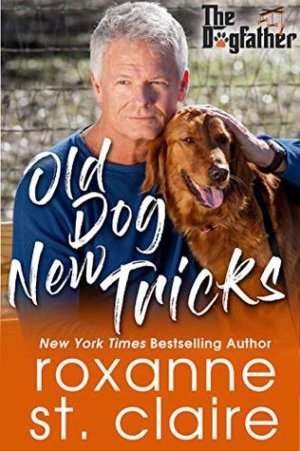 had a lot of success in the last few years, bringing a few bright spots to what could be a dreary existence since the loss of his beloved wife Annie. He's pulled a few strings as the so-called Dogfather, helping all six of his adult children find love. And they've all worked long and hard to create a thriving family business at Waterford Farm revolving around dogs: rescuing them and providing training classes as well. Daniel is thrilled with his late wife's idea coming to fruition. Even if he still misses her with every breath he takes.
"She sent you," he whispered.
"Excuse me?"
"I don't know if you get these feelings about your husband, but sometimes I can't help thinking that things happen, or people show up, and it's Annie's hand in the process. Like she can guide fate from beyond."
With his family finally on an even keel, Daniel wonders what will be next for them–and for the Dogfather. He never expected to have a woman show up in town with ties to his past, bringing with her a shocking revelation that is difficult to believe. But the truth is right in front of Daniel's face. And it's something that could alter his family forever. Although the woman herself, so brave and so calming to his soul, well…she could bring a different type of change to his life. Something he swore would never happen again: falling in love.
'He wanted this kiss. He wanted this moment. He wanted this woman.'
Oh, my heart! In what I think was the hardest-won HEA of the series aside from Molly and Trace in Bad to the Bone, the Dogfather himself was on the receiving end of some matchmaking, as well as a huge change to his family life in Old Dog New Tricks.
"I'm confused. A little scared. Uncertain of what to do. For the first time in my life, what's right and what's wrong isn't clear. The only thing that's clear is that I want to be with you."
Note: Please don't forget that a portion of Rocki's book sales are donated to the Alaqua Animal Refuge in Florida, the same rescue whose adorable dogs appear on the book covers of this series.
Daniel's heartfelt story was everything I hoped it would be and so much more. I'll admit to being nervous about how Rocki would handle the Dogfather receiving his own HEA. I mean, we've heard about his beloved late wife Annie since the opening pages of book one. How does a widower move on from such a terrific marriage that ended so suddenly with his sweetheart's death? Skip ahead four years later and it was obvious that while Daniel was content and overjoyed at helping his six grown children find love, he was actually quite lonely. And it took a shock from his past to make him realize how alone he truly felt.
Now, I'm not going to spoil this and give away who Daniel's love interest turned out to be. I will say that they were destined to be together, in my humble opinion. And the connection between the Dogfather and his lovely lady was sweet, tender, and vibrant. They both had been down tough roads personally in the previous few years, and through that grief is where they shared the biggest bond. It was the friendship Daniel had with her that grew into something more, ever so slowly, that will make you sigh happily. It wasn't fast and it didn't seem out of place. I thought Rocki showed their relationship grow at a realistic pace, complete with some setbacks that proved even the Dogfather was human and could make mistakes.
I cried copious amounts of tears, laughed and swooned, possibly even let out a squee or two of joy while reading Old Dog New Tricks. Rocki threw everything she could at Daniel but he proved yet again that the Kilcannons can overcome insurmountable odds by doing the right thing, keeping faith in their family, and knowing that love will always win, no matter what.
Book Info:

Publication: February 15th 2019 |Pub: South Street Publishing | The Dogfather #9
Daniel Kilcannon, the veterinarian known as the Dogfather, has been widowed for four years. He's spent the time running the largest canine rescue and training facility in North Carolina and pulling some strings to make sure each of his six grown children find a love like the one he lost when his beloved Annie died.
But as the years slip by, Daniel's vow to never love again is starting to make him restless. When a woman who was pivotal to his past arrives in Bitter Bark, he wonders if her appearance is coincidence or the guiding hand of his dearly departed wife…but the truth is neither. She's about to change his life again in ways he could never have imagined. And Daniel isn't sure if his heart — or his family — will ever recover from the impact.
Like every other book in this popular series, the cover of Old Dog New Tricks was shot at Alaqua Animal Refuge in the author's home state of Florida using only rescue dogs (and local guys) on the covers. A portion of book sales is donated to Alaqua to save animals and help them find forever homes.
About The Dogfather Series
Daniel Kilcannon is known as "The Dogfather" for a reason. It's not just his renowned skills as a veterinarian, his tremendous love of dogs, or the fact that he has turned his homestead in the foothills of the Blue Ridge Mountains into a world class dog training and rescue facility. Ask his six grown children who run Waterford Farm for him, and they'll tell you that their father's nickname is due to his uncanny ability to pull a few strings to get what he wants. And what he wants is for his four sons and two daughters to find the kind of life-changing love he had with his dearly departed wife, Annie. This old dog has a few new tricks…and he'll use them all to see his pack all settled into their happily ever afters!
Book List
Sit…Stay…Beg – Book One
New Leash on Life – Book Two
Leader of the Pack – Book Three
Santa Paws is Coming to Town – Book Four
Bad to the Bone – Book Five
Ruff Around the Edges – Book Six
Double Dog Dare – Book Seven
Bark! The Herald Angels Sing – Book Eight
Old Dog New Tricks – Book Nine