Immortal Danger by Cynthia Eden was previously published in 2009 as part of the Night Watch series.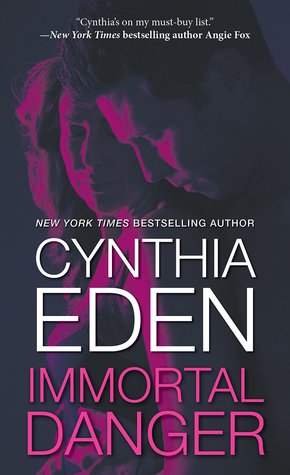 Once a police officer, Maya Black was viciously attacked and turned into a vampire. Now, she hunts her own kind. Adam Brody, a shifter, needs Maya in order to track down his young niece, who was kidnapped by vampires. Despite his hesitation to trust her, he knows there's no one else who could help him. As the pair follow the clues, and fall for each other along the way, they discover Maya's attack may not have been random and the reason for the kidnapping of Adam's niece may have dire consequences.
I loved Maya. She's not afraid to fight for what's right, take a stand against paranormal beings, or throw herself into dangerous situations. She tries to come across as tough and uncaring, but that couldn't be further from the truth. She, in fact, cares a lot. She prefers not to kill, and when she has to she feels bad about it. When she finds out Adam's niece is young, she doesn't hesitate to agree to help him. She puts others before herself.
It takes a while for Adam to open up to Maya because he doesn't trust vampires. Instead of being an alpha male, he isn't afraid to step back and let Maya take the lead. He has no problem following her rules and letting her make all the plans. That's not to say that he isn't an alpha male, because when he needs to be, he steps up and takes charge.
The build-up to the romance took time, which I enjoyed. There's no instant love here, instead, as they navigate the twists and turns the pop up, they learn more about each other. As their walls fall, so do their hearts. I enjoyed their banter and watching them fall for one another.
Filled with plenty of action and suspense, readers of the paranormal will not want to miss the exciting paranormal world Cynthia Eden has created.
Book Info:

Publication: August 28, 2018 | Kensington Publishing Corp |
Once, Maya Black was a badass cop patrolling the streets of L.A. She still keeps the city safe, but these days her bad guys of choice include demons, werewolves, and assorted nocturnal scum. Something Maya knows a thing or two about. She's a vampire–and not thrilled about it. Payback meet bitch.
Adam Brody hopes Maya is as dangerous as they say she is. He needs her to help rescue his niece Cammie from a ruthless band of vamps, and he's willing to pay–in blood. Trusting her is another matter. Adam has never met a vampire who doesn't lie. Then again, he's never met anyone like Maya, who fills him with a desperate need that ignites into explosive, no-holds-barred encounters . . .