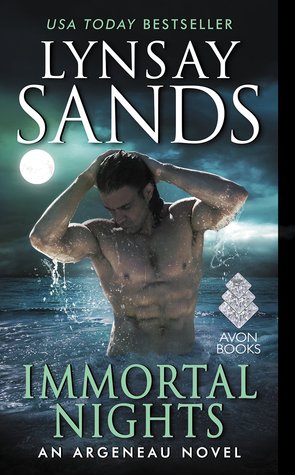 In Immortal Nights (Argeneau #24) by Lynsay Sands, A lot can change in a few years and Abigail Forsythe has found that out firsthand. After leaving medical school to take care of her ailing mother, then losing her recently, and using all of her money to cover the incurred bills, she's relying on the kindness of a friend to get on her feet. But a spur of the moment trip on her friend's cargo plane has Abigail face to face with the sexiest man she's ever seen. And he's unfortunately been abducted, being held in a cage, naked and sedated. An impromptu plan to save him has them bailing out of the plane and lost on a tropical island with the kidnappers hot on their trail.
'Abigail's eyes widened incredulously as his mouth covered hers. This kind of thing just did not happen to her. Big, hunky, naked men just did not kiss her out of the blue. And damnnnnn, he was a good kisser…'
Tomasso Notte may be Immortal but his kidnappers certainly knew how to knock him out. And now that he finds himself being freed by a lovely young woman who he's pretty sure is his life mate, it's time to take control and get back to his family so they can track down the culprit behind his and the other abductions. But Abigail is a complication and an increasing distraction as they trek across the island to find civilization. Tomasso can't keep denying his his hunger for his beautiful life mate or his thirst for blood so he can heal. He figured once they found signs of life things would work in their favor. But unfortunately the smitten couple just can't catch a break.
'He'd thought his situation bad when he'd woken up to find himself naked in a cage and unable to escape. But waking up to find Abigail there, and realizing she was not only a good guy, trying to rescue him, but his life mate, had seemed to be a gift from God. How had it all gone so wrong?'
The lively and unique bond that formed between main characters Tomasso and Abigail dominated this latest installment in Lynsay Sands' popular Argeneau series. On the run from kidnappers, facing many dangers and even serious illness along the way, they tried to overcome the odds and keep each other safe.
'The man was special, both strong and brave, yet tender and caring, Abigail thought, and acknowledged that she might actually be falling in love with the big Italian stud who was also a closet geek.'
The wild and sometimes wacky world of the Argeneaus is always entertaining. And Immortal Nights was definitely a nice addition to the series, keeping the thread of mystery over the abduction of Immortals by an evil doctor going, revealing a few more pieces of the ever-growing puzzle. Author Lynsay Sands added in her trademark humor, making what could have been a rather bleak situation–with Tomasso and Abigail lost on an island–full of comical conversations and the realization that they were life mates. The couple had a great connection, lots of chemistry and even found out they had a shared love of all things science.
Abigail and Tomasso's trek across the island wasn't without incident of course and parts of their journey, as well as fighting the bad guys, were a little bit graphic. So some readers may get squeamish during those scenes. But I really liked that Sands showed both how well Abigail and Tomasso worked together as a team, and how strong they were as individuals too. Some of the choices they made may not be entirely believable (it is a fictional paranormal story after all) but it fit their quirky personalities well.
Abigail was funny, smart and yet still naive in some ways which came across as refreshing to me. I loved that Tomasso adored her for her intelligence and her independent streak. And that he thought she was beautiful no matter that she was self-conscious of her weight and appearance. Tomasso proved to her just how lovely a person she was, inside and out. *sigh*
It will be interesting to find out what happens next with the Argeneaus closing in on the evil doctor and as more Immortals are ready to find their life mates. I can't wait to see how Sands will further the ongoing storyline from here.
Book Info:

Expected publication: September 20th 2016 | by Avon | Argeneau #24
In a sizzling new Argeneau novel from New York Times bestselling author Lynsay Sands, an impulsive rescue pairs a sexy immortal with the woman made to be his for eternity.
Abigail Forsythe's life hasn't been easy lately. Still, if there's one thing guaranteed to take her mind off an empty bank account and abandoned dreams, it's a naked man locked in a plane's cargo hold. A very big, incredibly gorgeous naked man. And when instinct prompts her to free him, Abigail must rely on this stranger for survival…a stranger who leaves her thrumming with need every time they touch.
Tomasso Notte knows he's found his life mate in Abigail. Now he just has to hold on to her. They're miles from civilization, hunted by his kidnappers. Abigail has no idea of Tomasso's abilities, or of how intensely pleasurable their unique connection can be. But he's about to show her, beginning with one wild, hot, immortal night…