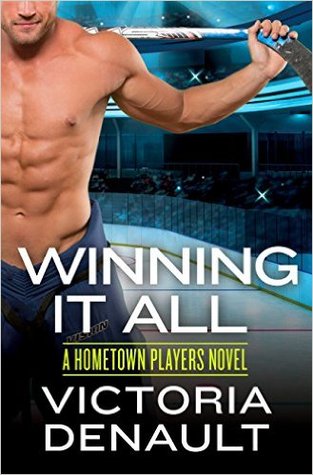 Winning It All by Victoria Denault: Seattle Winterhawks enforcer Sebastian Deveau is on a quest to find love like his friends and fellow teammates have found. Shayne Beckford is working at her brother's gym as a yoga instructor. At the grand opening she meets Sebastian, and, thinking he's a local businessman, has a one night stand with him. Only Sebastian doesn't want it to be a one night event. Shayne is willing to consider it until she discovers his true occupation. Sebastian is determined to prove to Shayne that not all hockey players are unfaithful players like her own father.
I liked Sebastian and how determined he was to convince Shayne that they could have something good. Shayne, on the other hand, irked me at times. She has daddy issues after catching her father, who had been a hockey player, having an affair with a teammate's wife when she was a child. She wants nothing to do with her father, even refusing to take money to get a new car when hers breaks down. She's angry at her mother for staying in a relationship where she gets cheated on constantly. As a result, she has a hatred for all hockey players. She doesn't believe they can be faithful, which causes her to be very wishy-washy when it comes to her relationship with Sebastian. She wants to be with him, but then she doesn't want to be with him because of his job. She wants to trust him but feels she can't, once again because of his job.
"My brain is an evil pessimist but my heart is a hopeful romantic."
We get to see Jordan and Jessie from the first book in the series, One More Shot. Jessie has gotten a job at the gym and hits it off with Shayne, but once Shayne realizes she's engaged to a hockey player, she puts distance between them. It was nice to see that Jessie wouldn't give up on being her friend though, despite the fact Shayne isn't comfortable around Jordan and his teammates.
We get to see a bit more of Captain Avery Westwood. Even though he didn't do the right thing by refusing to do an ad for the gym (he had been a college teammate of Shayne's brother, Trey), I thought it was nice that he tried to make up for it even though it made him uncomfortable.
Avery isn't great at taking responsibility for his actions, mostly because he's never had to. People let him get away with shit because he's Avery Westwood.
There seems to be something brewing between Avery and Sebastian's sister, Stephanie. It'll be interesting to see what happens with that, considering Avery seems to live his life based on his image, and Stephanie is a former drug addict.
This is the forth book in the series, but it can be read as a standalone. Sebastian is a minor character in other books though, so if you want an introduction to him and to learn more about Jordan and Jessie, then you may want to start from the beginning.
Winning It All wasn't my favorite book of the series, mainly because of Shayne's blinding hatred of hockey players and her unwillingness to believe that not all of them were like her father. It left me frustrated with her at times. Still, it was a good book and I recommend it to anyone who enjoys hockey romances. If you've read the other books in the series, you'll want to read this one as well.
Book Info:

 September 6, 2016 | Forever Yours | Hometown Players #4
As his team's enforcer on the ice, Sebastian Deveau is America's favorite fighting Frenchman. But he's just as likely to get into trouble off the ice–especially when it comes to women.
Shayne Beckford is so over hockey. It ruined her parents' marriage. It spoiled her brother's dreams. And let's not even talk about her college boyfriend . . . So when Sebastian Deveau walks into her brother's gym, she has no idea who he is. All she knows is that he's one gorgeous man with the sexiest accent she's ever heard. And since she never has to see him again, she lets him give her the best orgasm of her life right on top of the gym's dryer.
But Sebastian isn't going to let this one-night stand get away so easily. He fights for what he wants, even if it takes fighting a little dirty . . .