In In Bed with the Competition by J.K. Coi: Elizabeth Carlson and Ben Harrison met in college and immediately hit it off. As "techies" they more than excelled in their classes and as a result, developed an even friendlier competitive rivalry. To the outsider, Beth and Ben were a couple, yet they were only friends with a ton of sexual attraction between them. After college, Ben moved to New York City to start his own business.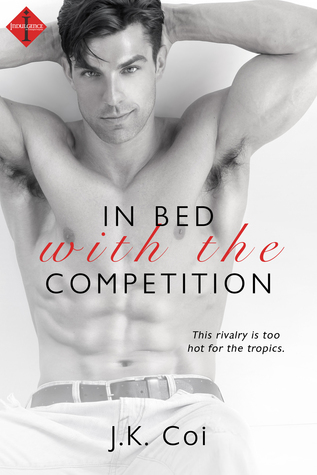 Beth remained in Seattle, not ready to take their relationship to another level. She started her own business with her brother Daniel. Their parting was bittersweet, because they never acknowledged their feelings to each other and when Ben asked Beth to move with him, she turned him down.
Now it is a year later and Beth and Ben are on the island of Antigua to attend a conference. Both are also seeking investors to get their product to market. Seeing and talking to each other for the first time in twelve months brings back a lot of memories, but they are not the same people from a year ago. Ben is known to be ruthless in his business tactics and a known playboy. He and his company have recently received some media attention, which has put him in the spotlight of the convention. Beth has made a name for herself as well, and her company is seen as an up and comer. Their product platforms are very similar and the one investor that they both really want to partner with, will have to choose between them. Competition seems to follow them everywhere. Both sparkle at the convention.
Beth and Ben are great characters. Ms. Coi does a great job of creating a background story with a lot grit, which flows nicely from beginning to end. Both characters evolve during the course of the year that they are living on opposite coast,s and as a result, they are able to face the past a forge a future together.
This was just an okay read for me. Although I truly liked the characters, I found the plot to be one-dimensional and tame. However, there is a lot going on in the story and it kept me interested. I also enjoyed the tropical theme.
Book Info:

Published June 16th 2014 by Entangled: Indulgence
This rivalry is too hot for the tropics…
Elizabeth Carlson and Ben Harrison used to be friends, coworkers…and almost lovers. But that was before Ben proposed mixing business with pleasure. Elizabeth refuses to lose her heart to a hotshot tycoon with a cutthroat, take-no-prisoners attitude. Not with the prospect of starting her own company at stake.
Driven to succeed in all areas of his life, Ben couldn't resist the temptation to make Liz his. But then she walked away, igniting a bitter rivalry. Competing for the same contract at a Caribbean conference ignites sparks too hot to ignore, and Ben's determined to finish what they started, even if it'll only last a few steamy, tropical nights.
Elizabeth's resolve begins to crumble under Ben's blatant seduction. Can she walk away from a hot island fling with the sexiest man she's ever known with her heart intact, or will losing herself in Ben destroy everything she's fought to achieve?