In Then Came You (Animal Magnetism #5) by Jill Shalvis, Emily has a life plan. Spending a year in Sunshine, Idaho is definitely not on her list, but that is where Emily finds herself for her year long veterinary internship. Also not on her list is finding out the veterinarian who is her supervisor is the one and only one night stand she's ever had while at a conference in Reno!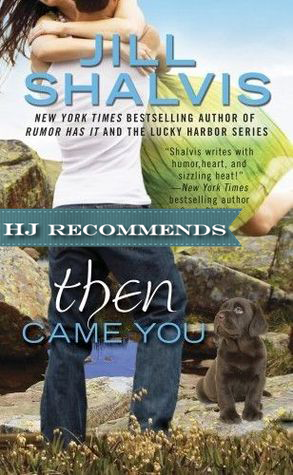 Wyatt has made his home in Sunshine, in the old, falling apart house his grandparents left to him and his sisters. He has plans, but Sunshine is the place he belongs. After a childhood and youth spent moving frequently with his parents, he wants nothing more than to put down roots. He's been hurt before by a woman he loved but who left him and Sunshine. He is careful with his heart.
Neither of them expect the chemistry between them that hasn't faded…in fact it's stronger than ever with each day that passes. Very quickly it is impossible to resist…as much as Emily tries! "Dr. Wyatt Stone, animal whisperer, woman whisperer."
They are hot together, and despite their differences, as they get to know each other they fit really well together. There is a lot inner conflict…they want to be together, but neither will tell the other how they feel. Emily wants Wyatt to ask her to stay, to tell her what he wants. Wyatt wants Emily to pick on her own. What's obvious to everyone else isn't as obvious to Emily and Wyatt. Will either of them be brave enough to take the risk? Can Emily deviate from her life plan and go with the twists in the road that life brings? Or will both of them be too stubborn, to scared to give voice to feelings much deeper than sex, and lose what could be a great thing?
Then Came You is a very entertaining, romantic read filled with characters you will love. Emily is stubborn, and used to taking care of everyone. She has a heart of gold, but a calendar that counts down the days until she can leave Sunshine and head to L.A. Emily was easy to like and I could understand her reasons for being how she is. She's realistic and I'd love to have her for a friend! Wyatt is also stubborn, and is afraid to risk his heart with a woman again. He knows Emily is "…just another person in his life with one foot out the door. He needed to remember that." Even though he thinks that, his heart seems to hope for more and I love how easy going he is with Emily, and quick with a smile. I really liked him! There is a vast array of great secondary characters in Then Came You. Jill expertly weaves them into the fabric of Then Came You so that they are just as much a part of it all as Emily and Wyatt, from the humans to all the animals!! I think my favorite is the parrot!
In Then Came You Jill gives us a believable plot in a setting she describes so well it's easy to picture in my mind. Jill's writing is flowing and pulls you right into Then Came You. I love, love the natural humor in Then Came You that made me laugh out loud so many times. Jill does a great job of developing Emily and Wyatt's characters, and in all that humor there is definitely seriousness, but I was overwhelmed by the good feelings she evokes in Then Came You. With a hint of suspense to spice things up, Jill kept me up late reading.
I'd recommend Then Came You to any romance reader looking to be thoroughly entertained by some great characters.
Book Info:

Published July 1st 2014 by Berkley | (Animal Magnetism #5)
From the New York Times bestselling author of Rumor Has It and the Lucky Harbor series comes the story of a woman whose world is turned upside down by one night's torrid fling…
Veterinary intern Emily can't believe she wound up in the small town of Sunshine, Idaho, instead of the Los Angeles clinic she had always imagined. Now she has to put her plans to move to L.A. on hold for a whole year while she fulfills the obligation of her vet school scholarship.
Then Wyatt, her gorgeous one-night stand from a Reno vet conference, introduces himself as her new boss. And Emily is just as drawn to his seductive looks and quiet strength as she was on that very steamy night. She soon learns that Wyatt isn't just a laid-back doctor, but a delicious alpha male tempting her away from her carefully laid-out plans…