In Bloom (The Brightside #1) by Katie Delahanty, Olivia Bloom moves to LA to fulfill her dreams of becoming a famous costume designer. She starts her journey by landing a job in a lingerie company and is taken under the wing of two young Hollywood insiders–Parker and Blair who soon become her best buddies. But the tuning point of her life comes when the lead singer of her favorite band– Berkeley & the Brightside's starts to fall for her.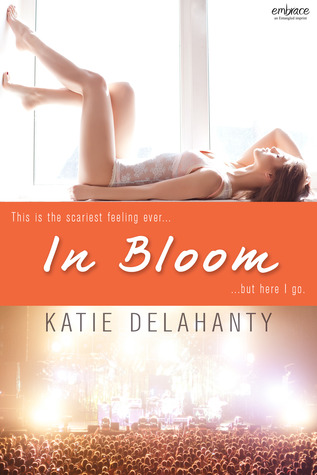 Olivia's whole life is soon surrounded by celebrities, fashion and music. With the world's sexiest rock star at her side, the world seems to be at her feet but can her dream survive the paparazzi, the tabloids and the rumors..??
He smiles down at me. "I'm not going to let you go."
"I wish I didn't have to let you go," I say as I pull his arm
tighter around me. "And I don't. At least not for tonight."
"No. Not tonight," he promises as he turns out the light and
gives me a squeeze.
I burrow into him, fi tting my body snuggly against his,
determined to stay awake, memorizing exactly how this feels.
In Bloom by Katie Delahanty follows the story of Olivia Bloom who moves from Pittsburgh to LA to fulfill her dreams.It was very different from the usual New Adult books in writing, story-line and conflicts. Usually New Adult carry loads of angst and feature a emotionally difficult relationship but In Bloom was surprisingly very angst free and different in its content.
Olivia is the girl next door turned into a Hollywood starlet when Berkeley falls for her. Apart from her extra ordinary circumstances she is very much like a normal girl with a loving family and supporting friends. Berkeley was the perfect hero because he was rock-star and yet very humble. He even writes and sings a song for Olivia and who can resist falling for guy who sings a song he has written for you.
Some instances in the book were out of the ordinary,  like the amount holidays Olivia took from her job just a week after joining and her boss being totally cool about it because she was dating a rock star. Berkely and Olivia's  romance happens too fast but their relationship starts in the true sense quite late in the novel.
Overall, In Bloom by Katie Delahanty is a cute and light-hearted romance. If you want something light and funny or if you like reading about an Hollywood hero be sure to add this to your reading list.
Book Info:

Published February 10th 2014 by Entangled Embrace
My name is Olivia Bloom and I. Am. Free.
I left for LA with everything I owned piled into my old Volkswagen and dreams of becoming a costume designer. Little did I know I'd wind up designing for a lingerie company—yeah, not sure how I landed this gig—and taken under the wing of two young Hollywood insiders. The fashion shows and parties were great, but life really got exciting when the seriously hottest lead singer of my favorite band started to fall for me.
How does someone like me, an ordinary girl from Pittsburgh, wind up in the arms of the world's sexiest rock star—surrounded by celebrities, fashion, and music—and not be eaten alive? Berkeley is everything I've ever dreamed of in a boyfriend, but the paparazzi, the tabloids, the rumors, it's all getting a bit too crazy. My life has become every girl's dream come true, if only I don't blink and lose it all…