In The Cottage on Juniper Ridge by Sheila Roberts, Jen Heath is severely unhappy with her life as it currently stands. Working two jobs in Seattle, barely able to enjoy her beautiful new condo, stressed out all the time…something needs to change. After taking time to read the book Simplify by Muriel Sterling, Jen decides to sell her condo and rent a little cottage in the mountainous town of Icicle Falls, where Muriel is from. And that's where her journey to simplify her life really begins.
'Whatever happened to the good old days when people spent time cuddled up with each other instead of their techno toys?'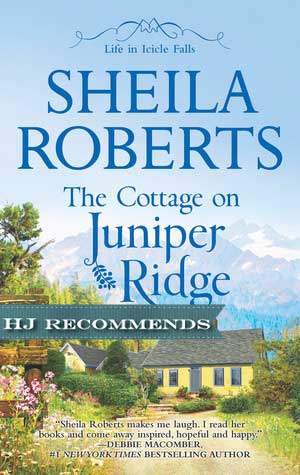 Jen is able to relax for the first time in years. She loves the little town and everyone she's met so far. Well, she's not sure about her landlord Garrett Armstrong. Jen is majorly attracted to him and he seems to be attracted to her as well, but he always stops himself from flirting with her. Her sister Toni assures her that he's just being cautious. However, the more disastrous encounters they have, the more Jen is sure they'll never get their chance together.
'She so badly wanted a stable man, a good man, she could build her new life with. This man, her heart kept insisting.'
The Cottage on Juniper Ridge is the fourth book in the Life in Icicle Falls series by Sheila Roberts. You need not worry if you haven't read her previous novels. There might be a lot of characters, but this can be read as a stand alone with no problem.
I found the characters very easy to relate to, especially with the insightful way Ms. Roberts presents them to us. The story focuses mainly on Jen and her sister Toni in their quest to make their lives more simplified and fulfilling. We also get several other stories that intersect with Jen upon her move to Icicle Falls: Stacy and her struggle with empty-nest syndrome, single mom Chita looking for something beyond working in a factory, and Charley starting over again after rebuilding her restaurant while also trying to plan a "small" wedding. The rest of the ladies in the local book club appear throughout the story, assisting and adding depth to the events.
Jen and Garrett's romance was a slow burn that was filled with a lot of I Love Lucy type moments. Poor Jen never seemed to have an issue until Garrett was around and then everything went all wonky. They had obvious chemistry, at least to everyone around them, although Garrett tried to deny it for as long as possible while on the hunt for a stable woman. I think my favorite moment between them was at the end of the book, when they were sort of *ahem* forced to finally admit what was between them. Very funny and sweet.
There were some rather poignant scenes as well, one of them being when Stacy was dealing with a family loss and thinking about how sad it is that a person's valued possessions become just "stuff" to those sorting through it when they're gone. I've had a similar moment myself in the same situation so I really connected with that scene, remembering my emotions at that time.
With a nice mix of romance, soul-searching, and family dynamics, The Cottage on Juniper Ridge is a heartfelt novel filled with lovely small-town characters I would love to have as friends.
Book Info:

Published March 1st 2014 by MIRA
Can a book change your life? Yes, when it's Simplicity, Muriel Sterling's guide to plain living. In fact, it inspires Jen Heath to leave her stressful, overcommitted life in Seattle and move to Icicle Falls, where she rents a lovely little cottage on Juniper Ridge. And where she can enjoy simple pleasures—like joining the local book club—and complicated ones, like falling in love with her sexy landlord, Garrett Armstrong.
Her sister Toni is ready for a change, too. She's got a teenage daughter who's constantly texting her friends, a husband who's more involved with his computer than he is with her, and a son who's consumed by video games. Toni wants her family to grow closer—to return to a simpler way of life.
Other women in town, like Stacy Thomas, are also inspired to unload their excess stuff and some of the extra responsibilities they've taken on.
But as they all discover, sometimes life simply happens. It doesn't always happen simply!