In Her Best Friend's Bed by J. Margot Critch two friends cross boundaries and enter into a friends with benefits relationship.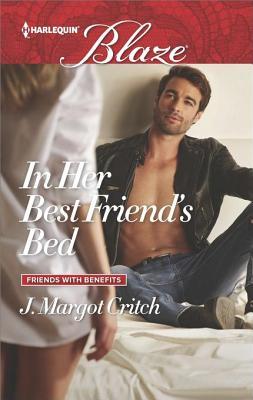 Abby is through with relationships and is only up for some fun. She never gets serious about relationships and even has rules she lives by. Trevor, her boss, and new bestie has his hands full with his work, but can't resist his attraction to her. Trevor has been with many women but there is something about Abby that calls to him. Since technically he's her boss, she's off limits or she should be.
"There's nothing a man can regularly give me that my best vibrator can't. And it won't leave the toilet seat up."
When Abby tells Trevor she's through with men completely, he proceeds to show her how good they could be and a friends with benefits relationship begins.
Trevor gave Abby a job when she needed one, but she's looking for a career. When she lands another job, Abby takes it, but doesn't count on missing Trevor. What was supposed to be one night, turns into something much more.
The chemistry is great between Abby and Trevor. They have a strong friendship and honestly enjoy each other's company, even when they aren't getting busy under the sheets. They would be the perfect couple if Abby could face her fear of relationships and take a chance on them. Will Trevor break down Abby's walls, so they can have a shot at something amazing or will Abby let her fear overpower her heart?
The writing is great, the characters kept me interested and I honestly cared whether or not these two were going to get a happy ending. Trevor was a great guy and made his feelings for Abby clear. As for Abby, it's understandable why she resists relationships, but I'm glad her feelings for Trevor make her question her fears. Overall, this was an enjoyable friends to lovers story and highly recommended.
Book Info:

Publication: February 1st 2017 | Harlequin Blaze |
She wants him so much!
Abby Shaw has had enough. She's done with relationships (why are guys always so needy?) and wants to focus on getting her career off the ground. The fact that Trevor Jones–her new best bud and her boss–is seriously hot shouldn't complicate things at all. But that deliciously hard, tattooed body? A kiss that suggests hours–and nights–of wicked pleasure? Yep, Trevor is trouble…
Abby and Trevor can't resist turning "just friends" into "friends with sexy benefits." Which means lots of hot sex, no messy emotions. It's the perfect arrangement–at first. But their searing sexual chemistry verges on becoming dangerously intimate…and Abby will do just about anything to keep herself from falling in love with Trevor Jones.