In Fighting for Love (The Elite #3) by Nicole Flockton, when her partner in synchronized diving decided to retire after the Rio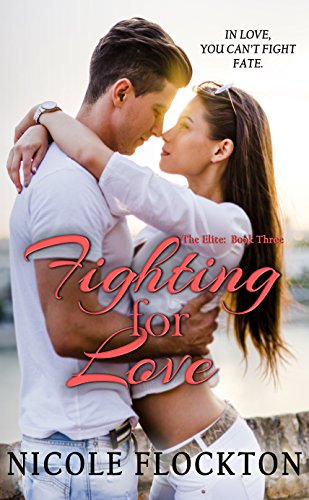 Olympics, Brooke King changed her focus to individual diving and has been giving an amazing opportunity to fly to Australia and train with one of the best coaches. Focused on qualifying for the 2020 Olympics and hopefully win a medal, she can't afford a distraction. But sometimes fate has other ideas when she comes face-to-face with her Rio hookup, Dane Parkland, soon after she arrives down under.
"I'm waiting. You told me you lived in Melbourne, right? That wasn't a lie, was it?"
"No, it wasn't. I lived in Melbourne when we met. I moved to Sydney a week after the Games."
"And you didn't know about this move when we were together? You don't seem the type of guy to make spur of the moment decisions."
Each book of this series just keeps getting better and better, and this one is the best so far. I don't know whether it was the fact that this book is set in my home country of Australia, or is a meant-to-be romance between the hero and heroine, but I could not put this book down, especially once Brooke and Dane came face-to-face for the first time since they hooked up in Rio. The way this story started had me hooked with Brooke following a new path in her career as a diver, hoping she can adjust from being a synchronized diver where she performs with a partner to diving on her own. Will she be able to adjust to individual diving? Will she get along well with the diving coach she'll be training under for a few weeks?
Brooke and Dane are fantastic characters, and I loved every moment of the banter between them. Brooke and Dane never thought they'd see each other again. Not so soon anyway. So, the moment they come face-to-face again is a moment full of surprise because Dane isn't supposed to be in Sydney and she's from Colorado but in Sydney to start a new phase in her career. She's so far away from home and her support group, so it's good that she's got Dane; someone to comfort her, even though she tries her hardest to resist him. Because she knows they'll only ever be a temporary couple due to the pair living in different parts of the world.
"What do you mean?"
"Well, say I stay here, and then I don't do enough to make the team. I'd have spent four years away from my family all for nothing."
"You don't know that. It could be the best decision you'll ever make." And you'd be here with me and I would love that. He couldn't voice his inner thoughts, though. This had to be her decision.
"As childish as it sounds, I don't want to think about it. I'll make a decision when the time comes."
Brooke is strong, brave and I liked how determined she is to succeed in her transition from synchronized diving to individual. She has some big decisions to make and goes through a lot in this story – flying to a country for six weeks where she doesn't know anyone to see if she'll enjoy individual diving, trying to resist Dane so she can concentrate on her career and the news she gets that could derail her career. Moreover, I felt sorry for Brooke when she talks to Dane about what's going on with her. Will he realize that Brooke is nothing like the woman that tried to manipulate him in the past? While Dane, he's loyal, focused on his career and I liked how determined he was to show Brooke that they're meant to be. He's been very successful in the past and Rio was a good Olympics for him. He can't afford distractions because he's looking to the future and the next Olympics. Yet, he can't let Brooke get away again.
Overall, this was a really good third book for Ms. Flockton's Elite series where there was so much chemistry between Brooke and Dane, which eventually spilled over onto the pages nicely. The way this story ended was perfect, as Dane was willing to sacrifice everything he's worked hard to achieve in his career to have Brooke in his life and to make certain she could still follow her dreams because she was disappointed by her results in Rio. I would recommend Fighting for Love by Nicole Flockton, if you enjoy second chance romances or a contemporary romance where the couple are meant to be.
Book Info:

Publication: January 24th, 2017 | Published – Nicole Flockton | The Elite #3
Brooke King has always dreamed of winning gold. With the Rio Games finished and no gold hanging around her neck, she's more determined than ever to do whatever is needed to win, including going solo and moving to another country for a shot with a new diving coach. The last person she expects to see is her sexy Rio fling, Dane Parkland.
Dane is riding high after a successful Olympic Games. Relocating to follow his longtime coach is a no-brainer for him. Settling into his new home he's stunned when he finds Brooke living in the same complex. The girl he hasn't been able to forget.
Will Brooke and Dane fight to turn short-term fun into long-term love? Or will career ambitions, past hurts, and big decisions prove too much to overcome?