First Bride to Fall by Ginny Baird: This is the first book in the Majestic Maine series, and it was a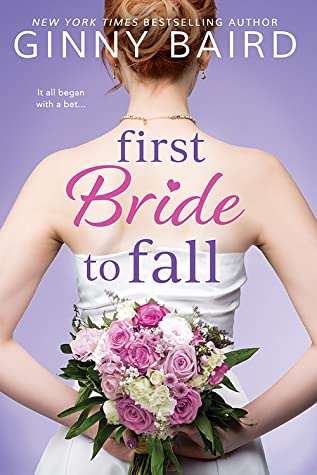 great start for the series. The series is based on the Delaney sisters and the deal they strike to save their family's coffee shop. Their parents want one of them to enter a marriage of convenience with their previous partner's son. Their previous partner had cheated on them several years ago and now his son wants to make amends but the only way to do it is through marriage due to his will. The sisters strike a deal that whoever hasn't found love in thirty days will be the one to marry for convenience.
Nell will do anything to save the family's coffee shop but marrying for convenience is pushing it a little too far. The deal gives her a great reason to step out of her comfort zone and go for the guy she has crushed on, Grant Williams. She's not an outdoorsy kind of person but in order to get his attention, she must change that.
Adventure guide Grant Williams instantly knows Nell is not the outdoor type. But the instant chemistry between them is enough to interest him. He can see himself having a future and settling down with Nell until he hears the town gossip. Now he needs to put a halt to their relationship without ruining his reputation.
This was a fast-paced book to read and one that will keep your attention until the end. The characters were genuine, likable, and charming. I loved all of Nell's fun antics and the book was very entertaining. It is a perfect book if you are looking for a cute romance full of fun.
Book Info:

Publication: June 28, 2022 | Entangled: Amara | Majestic Maine #1
Nell Delaney will do almost anything for her parents and her two sisters. But enter a marriage of convenience to save the family's coffee shop? Too far. So Nell and her sisters strike a deal: whoever hasn't found love in thirty days has to step up to take one for the team. The good news? Nell knows the perfect guy to fall in love with. The bad news? She's going to have to pretend she likes the outdoors…a lot.
Adventure guide Grant Williams knows immediately that Nell is not exactly Little Miss Outdoorsy. She's a walking natural disaster—an amazingly adorable disaster. And whoa, their chemistry is unbelievable. Everything between them is so perfect, he's not even a little bit shocked when he starts thinking of forever…
Right up until he catches the town gossiping about the Delaney sisters' bargain and realizes she's just using him to win a bet. Unfortunately, his family's unreliable reputation means he can't just dump one of the town's sweethearts. No, she needs to dump him. If she's going to pretend to be the perfect doting bride, well, he'll just pretend to be the worst bachelor on the market.