In the Eye of the Storm/Catering to the CEO by Samantha Chase are two stories in one book. To me,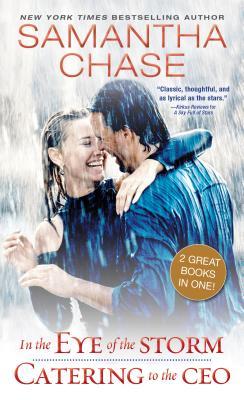 they read like novellas, which I'm not overly crazy about. I'll start with In The Eye of the Storm, which was the better of the two stories.
In the Eye of the Storm, assistant Holly Abrams is called at two in the morning by her boss, Stephen Ballinger, who was drunk and left without a ride after a fight with his two best friends. By the time she gets him home, he insists she stay because the storm is bad. The next day she has to stay again because a fallen tree blocks the road out. Things heat up quickly between the pair.
I found Holly to be a little wishy-washy. She makes demands of Stephen, such as not working weekends and getting to leave at five when the other employees leave, but when he grants her that, she gets upset. She also jumps to conclusions based on something one of Stephen's friends says. Instead of asking Stephen about it, she just gives him the cold shoulder. Still, I found their relationship more believable than that in Catering to the CEO.
In Catering to the CEO, caterer Cassie Jacobs has had enough of working with CEO Adam Lawrence. Just having stormed out of his office, pretty sure she was fired, she arrives to a family dinner where her father wants to introduce her to his girlfriend and her son. When Adam walks in, Cassie is horrified. Yet the pair decide to call a truce in order to make their parents happy. Only when Adam's trust issues rise to the surface, things threaten to fall apart.
This story, more so than In the Eye of the Storm, left me with unanswered questions. Adam seems to harbor anger towards his mother. It's mentioned that it's because he hated that she was weak enough to let his father back into their lives, but that didn't seem to be a good reason for the distance between the pair. Cassie's father knew who Bev's son was, so why didn't he warn her, especially knowing they just had fight? Cassie offers up Adam's beach house for the wedding, and then doesn't seem to understand why Adam was upset with her one. While she didn't know about the strain in the relationship between mother and son, it wasn't her place to offer up his house without discussing it with him first. I don't understand how she could not see she was in the wrong here.
I thought the stories were ok. They were definitely not my favorite stories from this author. As I stated earlier, they read like novellas, so the characters weren't flushed out completely. It felt like the relationships were rushed and readers don't get a chance to know the characters and understand their motives. If you enjoy the boss/employee trope, you might want to give these a read.

Book Info:

Publication: April 3, 2018 | Sourcebooks Casablanca |
In the Eye of the Storm
Holly Abrams can't believe her demanding…and unbelievably sexy…boss, Stephen Ballinger, called her to pick him up at 2 A.M. in the middle of a tropical storm. To make matters worse, the storm is too dangerous for her to make the trek home. Forced to stay at his place to wait it out, their relationship quickly turns passionate…but will it last past the thunder and lightning?
Catering to the CEO
Millionaire CEO Adam Lawrence knows how to get what he wants–in business and in the bedroom. So when caterer Cassie Jacobs dares to best him on a deal, Adam vows revenge. But when they get life-changing news that could bind them together for years to come, Adam may have no choice but to change his ways…and open his heart.