Love in Catalina Cove by Brenda Jackson:  I'm going to love this new series!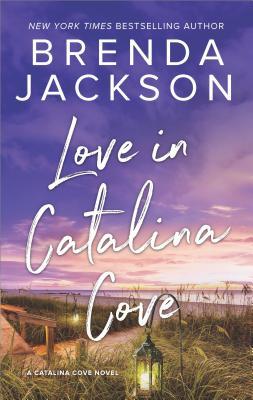 When Vashti falls pregnant at sixteen, the town of Catalina Cove shunned her, not only because she was an unwed mother, but because she refused to name the father. Under her parents' insistence, she agreed to stay in an unwed mother's home, but she still refused to give her child up for adoption. Sadly, the baby died shortly after birth. Vashti moved on and made a life for herself in New York, but still holds a grudge against her hometown and the people who mistreated her.
But, when her beloved aunt passes away, Vashti inherits her B&B, and is given a multi- million dollar offer on the property. So, despite her hard feelings she returns home hoping to close the deal. But before she can even roll into town, the sheriff pulls her over and writes her a speeding ticket. But,instead of being mad, Vashti can't seem to get the sexy lawman out of her mind.
Sawyer, the town sheriff, is a widower and single father to a teenage daughter. When he pulls Vashti over he's struck by the chemistry between them, despite the circumstances. When they both attend a party given by a mutual friend, the sparks truly ignite. But, neither of them wants a long-term relationship.
Meanwhile, Vashti considers her future career prospects while striking up an acquaintance with the most unlikely of people. But, an off- hand comment by an elderly woman suffering from dementia prompts Vashti to ask Sawyer for help in de-coding the woman's cryptic statement. Before all is said and done, Vashti and Sawyer will see their lives change in ways they never thought possible.
Whew! Oh, my goodness! What a story! I've read many stories by Brenda Jackson in the 'before Goodreads' days. Although I have several of her novels on my bookshelves, and tucked inside my Kindle, it has been a long while since I've read any of her books. When I saw this was the first novel in a new series I had a feeling I'd regret it if I didn't get in on the ground floor. I'm glad I followed my instincts!
The story starts out like a thousand other romance novels- boy meets girl- sparks fly- there are the inevitable conflicts, but they try to work out the knots, hoping to find a nice balance. It is a pleasant story and I'm cruising along, enjoying the characters, the sexy times, wondering when and how Sawyer and Vashti will manage to resolve their differences, when Jackson begins to build upon this foundation in the most surprising ways! Although I had begun to suspect a few things, I never, ever, ever could have guessed the way it would all play out in the end, and I absolutely loved it.
That being said, one will need to accept a fair amount of implausibility, and a strong ability to suspend belief, because the odds of something like this happening are pretty small, but it made for a great story, nonetheless, which is all I really care about. The romance is a nice balance of sweet romantic gestures and super -hot and steamy love scenes. The couple has some difficult conflicts, misunderstandings, and some pretty heavy drama to work through, but love will pave the way for trust to develop and for dreams to finally come true! I am really, really, really looking forward to the next book in the series!

Book Info:

Publication: October 30, 2018 | HQN | Catalina Cove #1
In the wake of a devastating teen pregnancy that left her childless and heartbroken, Vashti Alcindor left Catalina Cove, Louisiana, with no plans to return. Now, over a decade later, Vashti reluctantly finds herself back in her hometown after inheriting her aunt's B and B. Her homecoming gets off to a rocky start when the new sheriff, Sawyer Grisham, pulls her over for speeding, and things go downhill from there.
The B and B, a place she'd always found refuge in when it seemed like the whole world was against her, has fallen into disrepair. When a surprising benefactor encourages Vashti to reopen the B and B, Vashti embraces a fresh start, and soon old hurts begin to fade as she makes new memories with the town—and its handsome sheriff…
But some pasts are too big to escape, and when a bombshell of a secret changes everything she thought was true, Vashti is left reeling. With Sawyer and his teenage daughter determined to see her through the storm, though, she's learning family isn't always a matter of blood—sometimes it's a matter of heart.