Inconvenient Attraction (The Eddington Heirs # 1) by Zuri Day takes us to the überexclusive suburb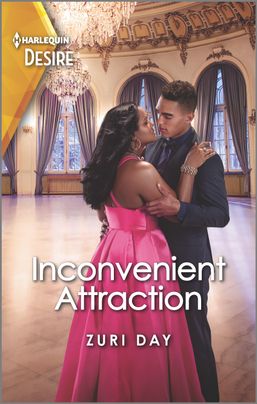 Point du Sable, just outside Chicago. Cayden Barker is the Eddingtons' unofficial adopted son, works in the family business and has grown into a successful man with his AI technology. He's at a point where he has been nominated to be a member of the most exclusive club in the world. As part of his entrance in the club, he has to do a charity golf tournament at the Point's exclusive country club, where he will have to work alongside Avery Gray, the venue's new events planner.
Cayden and Avery have known each other since high school. No, they weren't a couple then, but she was friends with Cayden's ex-girlfriend, Brittany, who tried to destroy him at the time. Their reunion was an accidental one —literally!—, but sparks immediately fly between them. As they work through the tournament, sexual attraction increases and love flourishes. However, what will happen when Cayden discovers the secret that lays hidden between them and that it has to do with what happened with him and Brittany?
Cayden's origins are somewhat complicated. He met Jake, one of the Eddington young heirs, when he was 10 years old and moved in with them at 15, where he was treated like yet another son. He took advantage of every opportunity he's been given to succeed in life and business. Avery is an event coordinator whose dream is to have her own business, so her new job —also dreamed of— at the country club is the next step in making a name for herself in her profession and achieving her goal.
What Cayden and Avery have in common is that they are very distrustful. Neither of them has been lucky in love. Cayden, after his experience with Brittany, closes in on love and their relationships are superficial and sporadic. Avery, for her part, was cheated on by an ex-boyfriend and has made her cautious. At the moment of their reunion, the two feel that what happens between them has come at the most inconvenient moment of their lives, because they have much to prove before giving way to love. Despite this, and Avery's initial distrust in Cayden (she believed for years Brittany's lies), they both realize that the feelings that arise between them are impossible to control.
"Sometimes love comes when we least expect it.
We have no control or a way to direct it.
Impossible to dictate our heart's reaction
When we get caught up in an inconvenient attraction."
Cayden and Avery make spontaneously combustion every time they interact. And their romance flows organic and without hype. In addition, they make a beautiful, balanced and credible couple.
Although the focus of the plot is the main couple and their work is impeccable, it's the external elements of the story that make the book compelling. Supporting characters, notably Brittany, Lisa (Avery's sister and Lisa's best friend, which made Cayden's ex friends with Avery), Jake, and Lawrence Kincaid (from the Eddingtons' rival family), provide the drama that needs the story and, incidentally, some of them introduce us to how this series could continue.
The ending is fantastic and adequate but there are a couple of things that are left open. Or is it my wish that the book had an epilogue? The truth is that writing is enjoyable and simple, with its transitions at the right times and good knowledge of the topics. And the reading is fast despite not having a hurried pace. Everything is perfectly in its place, which makes the first installment of The Eddington Heirs the best book this series could have as an introduction.

Book Info:

Publication: November 30th, 2021 | Harlequin Desire | The Eddington Heirs #1
Undeniable chemistry sets an event planner and her client on a collision course in Zuri Day's steamy new novel introducing The Eddington Heirs.
Their passion is against the rules…
But rules are meant to be broken.
Tech developer Cayden Baker has been blindsided by Avery Gray twice. It seems the stunning event planner who totaled his luxury car is also responsible for planning his elite charity event. And since he's a member of the club where she works, fraternizing is strictly off-limits…though he's never been one to follow others' rules. Then Cayden discovers Avery's involvement in a scandal that upended his life years ago. Will it change everything for them now, too?
From Harlequin Desire: A luxurious world of bold encounters and sizzling chemistry.
Love triumphs in these uplifting romances, part of The Eddington Heirs series:
Book 1: Inconvenient Attraction