Innocent in the Billionaire's Bed by Clare Connelly is a sensual, thoroughly entertaining romance set on a Mediterranean island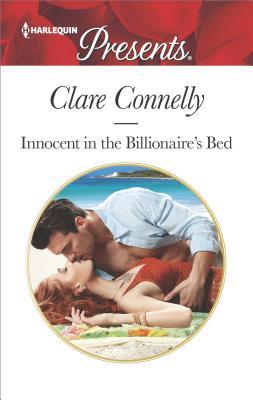 where all is not what it seems.
Tilly Morgan is a dead ringer for society heiress Cressida Wyndham, who happens to be her boss's daughter. When Cressida first approaches Tilly to occasionally impersonate her to help dodge the paparazzi, Tilly is glad to help. Then Cressida asks for an even bigger favour. She's supposed to go evaluate a remote island her father is considering purchasing. It will be a week spent on an island paradise, perhaps with a real estate agent, where Tilly can assess the place and get in some rest and relaxation too. And she needs the money – her brother Jack has gambling debts that he's desperate to pay, and she can help him if she takes the job. Tilly agrees, but things don't go exactly as planned when it turns out that the island's owner, the devastatingly handsome Rio Mastrangelo, will be staying the week with her in close quarters.
Rio inherited the small island paradise of Prim'amore from a father he never knew, the man who seduced his mother and left her pregnant and alone. She'd died of cancer when Rio was seventeen, and since then Rio had worked hard and made a name and a fortune for himself. Rio's mother had spoken deliriously of Prim'amore on her deathbed, and had even had architectural sketches of the home she'd hoped at one time to build on the island where her lover had taken her. But it had all come to naught, except for Rio inheriting the island with its simple beach house. He wants to sell it, and is ready to show Cressida why her father should consider buying.
But the woman who meets him doesn't seem anything like her reputation. The more he gets to know her, the more he likes her. And the sexual attraction between them is off the charts. But when the truth is revealed about who Tilly really is, will the bubble burst on their fledgling romance?
I loved this story! I've always been a fan of the 'forced proximity' trope, where two people are trapped (in this case they are literally on a tropical island all alone) and forced to deal with each other, making for emotionally charged scenes and lots of sexual tension. The setting here is beautiful and so well described that it was easy to picture, from the sunset colours on the beach to the hike up a volcanic crater and cool down dip in the ocean.
Rio and Tilly start to open up to each other fairly quickly, with Tilly revealing many truths about herself but lamenting that she can't tell Rio who she really is, as she can't afford to not get the money Cressida promised her. Rio is puzzled by Tilly, as she doesn't act like he'd expected. In place of a jaded, party girl he finds a refreshingly fun and somewhat shy woman. The chemistry between them leads to some sensual love scenes and the hope that their romance can continue once Tilly leaves the island.
But of course, the truth is bound to come out, and with it, the reality that their relationship might be more fantasy than reality. The conflict and resolution are very satisfying, with a delightful happy ending for the couple as the truth of their feelings wins out. A special thanks to the author for including references to Enid Blyton, one of my favorite childhood authors in some of Rio and Tilly's conversations. Everything about this story was a delight and I look forward to reading more from this author!

Book Info:

Publication: Nov 21, 2017 | Harlequin Presents |
Tempted by the tycoon's touch… Rio Mastrangelo doesn't want anything from the father who never acknowledged him. So when he unexpectedly inherits an island paradise, he's determined to sell it as fast as he can! But the potential purchaser who lands on his shores is not the spoiled heiress he's been expecting–and her luscious body fills him with a rush of hot, undeniable desire. Cash-strapped Tilly Morgan accepted a payment to impersonate her best friend, but she hadn't bargained on sexy Rio. When a storm hits, trapping them together, there's nowhere to run from their raging hunger–and passion threatens to uncover Tilly's every vulnerability…