Intercepted by Alexa Martin is a funny, touching, football themed romance. It's a debut book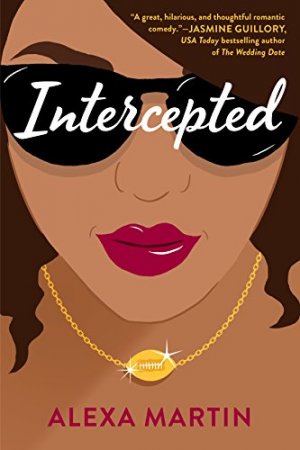 for the author and she writes from the experience of having been involved in NFL circles as the wife of a former player. This lends authenticity to the story of a woman and her quest for a happy ever after.
Marlee Harper may roll her eyes at the antics of the Lady Mustangs, the charity group she belongs to made up of the wives of current NFL players on the Denver Mustangs roster but it's something she's used to. Technically she's a girlfriend, not a wife, in a ten year on again/off again relationship with wide receiver Chris Alexander. At one point four years ago she'd thought they were through for good and had a one night stand with a hunk who treated her right only to discover that he wasn't a businessman after all, but another football player! Thoroughly disheartened, she'd ended up back with Chris and her current life. She enjoys her freelance work designing websites but she's getting tired of waiting for an engagement ring.
When it turns out that the aforementioned one night stand, Gavin Pope, has been contracted to the Mustangs, Marlee tries to play it cool figuring he won't even remember her. (He definitely does). The contrast between polite, friendly, gentlemanly Gavin and arrogant, know it all, Chris couldn't be more stark. And when Gavin happens to be there when Marlee discovers that Chris has been cheating on her, he's the one to escort her off to lick her wounds and start over again.
Gavin would like nothing more than to pick up where they left off now that Marlee is single but she's been there, done that when it comes to football players. Yet despite her best efforts, Gavin gets under her skin, wooing her slowly and skillfully until touchdown is achieved. Not everyone is thrilled with the new relationship, including the Lady Mustangs, some of Gavin's friends and family, not to mention the Mustang fans who are quick to find her an easy scapegoat when the team has some trouble. Will they have the stamina and fortitude to go the distance against the odds?
I wasn't sure what to expect from this story but I started laughing from the first page and was drawn into the story immediately. Marlee is self confident, funny, and smart, a woman who has no difficulty standing up for herself and her best friend Naomi (a player's wife) in the setting that could double for a Real Football Wives reality show. It's clear the author knows how it works, how to play the game of social niceties and gossip while still maintaining one's sanity. Hashtags are used profusely to convey Marlee's thoughts, adding an extra dash of humour.
It's not all fun and games for Marlee though. Besides discovering her boyfriend has been cheating on her and having to find more work to support herself, there are a couple of instances in the book that show the daily struggles of women living in not so great neighborhoods and having to contend with men of a certain ilk. These scenes are tense and lead to some emotional moments. Gavin does his best to help Marlee through these tougher times, showing he's got her back while leaving her to make the decisions.
The romance is sweet and sexy and believable. The chemistry between Gavin and Marlee was there when they first met and is there now, not having diminished over time. The sex scenes are hot and fun. The football scenes are authentic on and off the field and injuries, contracts, etc. are all part of the scene. So is the publicity, both positive and negative. Working things out takes some time, and deciding whether they have a real future together does too. At one point, I wasn't sure that they'd reach their HEA in this book and was thinking I might be left with a cliffhanger, but to my relief all's well that ends well in a delightfully appropriate fashion. Some surprises, lots of laughs, BFFs and a sexy romance – it's all here and I can't wait to read more from this author!

Book Info:

Publication: Sep 11, 2018 | Berkley | Playbook #1
Marlee thought she scored the man of her dreams only to be scorched by a bad breakup. But there's a new player on the horizon, and he's in a league of his own…
Marlee Harper is the perfect girlfriend. She's definitely had enough practice by dating her NFL-star boyfriend for the last ten years. But when she discovers he has been tackling other women on the sly, she vows to never date an athlete again. There's just one problem: Gavin Pope, the new hotshot quarterback and a fling from the past, has Marlee in his sights.
Gavin fights to show Marlee he's nothing like her ex. Unfortunately, not everyone is ready to let her escape her past. The team's wives, who never led the welcome wagon, are not happy with Marlee's return. They have only one thing on their minds: taking her down. But when the gossip makes Marlee public enemy number one, she worries about more than just her reputation.
Between their own fumbles and the wicked wives, it will take a Hail Mary for Marlee and Gavin's relationship to survive the season.