In Irresistible You (Chicago Rebels, #1) by Kate Meader, Harper Chase has basically spent her life trying to win her father's approval,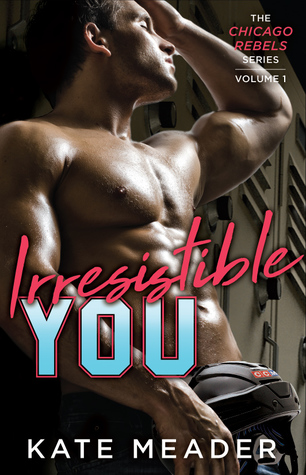 working towards the day she would be an integral part of his hockey team, the Chicago Rebels', management. But even after his death, her father has the last laugh by pairing her up with her two estranged sisters, Isobel and Violet, to somehow turn the team around in one season. That means Harper will have to pull out all the stops and show everyone just how much a woman can accomplish when she sets her mind to it. Her first big break comes when she adds center Remy DuPre to the team. His years of experience on the ice and natural charm begins to work wonders on her battered and beaten down players. But Harper didn't expect the sexy Cajun's charm to work on her broken down heart as well.
"I'm gonna kiss you now, minou."
She might have nodded. She might have blinked. One for yes, two for hell yeah.
Hoping to finish out the season in Boston by winning the coveted Stanley Cup that's always eluded him, Remy "Jinx" DuPre is not impressed when he finds out he's been traded to the Chicago Rebels. And his time with the team starts off on the wrong foot when he butts heads with one of the new owners, Harper Chase. The petite beauty may be a sight for Remy's sore eyes but she's as stubborn as any woman he's ever met. Including his own sassy sisters back in New Orleans. But that fire and wit catches his attention to the point that Remy knows he's going to break the rules and pursue Harper–bad idea or not. While he knows her attraction for him is just as strong as his own for her, he's going to have to throw off his gloves and get ready for the fight of a lifetime to win her heart. And Remy's sure it will be worth it.
"Don't tell me it's ever been this hot with anyone else because I won't believe it."
She blinked those big, sexy eyes up at him, and for a moment, he thought, This is it. Bon nuit, Remy.
"One more night. And then–"
He kissed her to cut off any talk of the future. He would take it one night at a time.
For now.
Holy Hotness! Irresistible You was a fantastic start to Kate Meader's new sports romance series about the Chicago Rebels hockey team. And let me tell ya…the heat & sparks our dynamic duo gave off was enough to melt the ice from underneath the team's skates. Whew! *fans face*
'Forget about falling in love. He was already flat on the ice.'
With every book I read by Kate Meader I become more and more enamored of her writing style. There's just something with the way she mixes humor, genuine emotions and tons of steamy goodness that resonates with me. Irresistible You took all that and bumped it up a few more notches, making it a book I absolutely had to binge-read and found myself enjoying every single moment. Especially getting to meet all the players and watching the dynamics (and fireworks) unfold between Harper and Remy. Their instant attraction was a wonder to behold. But for me it was their quick bantering and sexy innuendos that made my day.
Remy, Remy, Remy. Sigh… The ragin' Cajun, aka Jinx, was the type of guy that dreams are made of. Seriously. Between his sexy accent, his ability on the ice, his dirty mouth, and his protective, gentlemanly ways, he was both sigh-worthy and swoon-worthy. And I must say that Remy surprised me in the best of ways. I went into this story thinking he'd be like most other sports romance heroes and be arrogant and all alpha. And he was. But there was hidden depth to this handsome devil, with Remy being a caring son and uncle, a loyal teammate, and a guy who believed in taking complete care of the woman in his life in every way possible. Plus he was a fantastic cook. How could you not fall for him, right?
Harper was one of the most kickass, funny heroines I've read in a while. She was feisty and unapologetic for being a female in charge of a professional sports team, out to prove she could do the job every bit as good as–if not better than–her male counterparts. I loved her 'Chicks Rule' frame of mind. And I liked that Harper's attraction to Remy only ended up making her stronger by the end as he helped her realize her own strength. I thought her struggle with her emotions and figuring out how to balance her career with her needs as a woman rang true and was something most readers will understand. Harper fought Remy's seduction every step of the way. But anyone could see how good they were for each other and I just adored them as a couple. They were super sweet together.
Watching Harper deal with having her estranged sisters Isobel and Violet become part of her life and the team was really interesting as well. Things changed between them considerably by the end of the book and it should be entertaining to see where the sisters take their relationship and their hockey team in the future. We learned just enough of Violet and Isobel's backstories to get an idea how exciting their own upcoming books will be. Can't wait!
Readers are in for a definite treat with Irresistible You. The crazy hot chemistry between a sassy woman out to prove her mettle and a talented but unlucky hockey guy looking to finally win a championship proved to be an absolute winning combination.
Book Info:

Publication: Published August 14th 2017 | Pocket Star | Chicago Rebels #1
Hot in Chicago series author Kate Meader returns with her all new, scorching Chicago Rebels hockey series. Three estranged sisters inherit their late father's failing hockey franchise and are forced to confront a man's world, their family's demons, and the battle-hardened ice warriors skating into their hearts.
Harper Chase has just become the most powerful woman in the NHL after the death of her father Clifford Chase, maverick owner of the Chicago Rebels. But the team is a hot mess—underfunded, overweight, and close to tapping out of the league. Hell-bent on turning the luckless franchise around, Harper won't let anything stand in her way. Not her gender, not her sisters, and especially not a veteran player with an attitude problem, a chip on his shoulder, and a smoldering gaze designed to melt her ice-compacted defenses.
Veteran center Remy "Jinx" DuPre is on the downside of a career that's seen him win big sponsorships, fans' hearts, and more than a few notches on his stick. Only one goal has eluded him: the Stanley Cup. Sure, he's been labeled as the unluckiest guy in the league, but with his recent streak of good play, he knows this is his year. So why the hell is he being shunted off to a failing hockey franchise run by a ball-buster in heels? And is she seriously expecting him to lead her band of misfit losers to a coveted spot in the playoffs?
He'd have a better chance of leading Harper on a merry skate to his bed…