In A Hero To Love by Gail Chianese, Navy Chief Master at Arms Jackson Faraday is trying to decide his future. His dream job is with the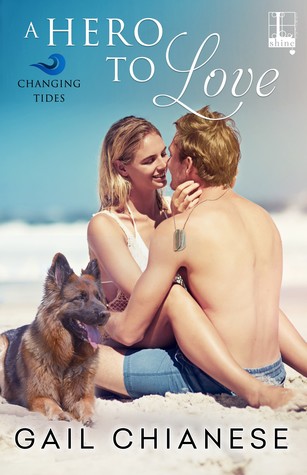 NCIS, but not having heard back from them he's struggling between applying for other government agencies or staying in the Navy. In the meantime, he has to get his best friend and K-9 partner, Bella, used to the other handlers. Only one night on the course Bella takes a leap and lands wrong, leading to him rushing her to the vet where he meets veterinarian Risa Reynolds.
Risa has a strict no dating military men policy, but the more time she spends with Jax and the more see witnesses his love and devotion to Bella, she can't help but be drawn in. When her tires are slashed and her office vandalized, she reaches out to him. It's not his jurisdiction, but he's determined to get to the bottom of the threats.
I loved Jax and his relationship with Bella. Even though she's supposed to be a working dog and he's not supposed to get attached, he has. He hates the thought of leaving her behind, and it's clear that she only wants him to be her handler. When his superior officer orders him to stay away, Jax can't bring himself to do it.
If SECOP found out, he'd get in serious shit. If Senior Chief found out, he'd be in even more shit, which he didn't need, with his application circulating among the federal agencies. He looked at Bella. They'd been through so much. Risa put her hand on Bella's head, and Belladonna, trained warrior, snuggled closer, tail wagging like a puppy. He knew then, he was about to become a rule-breaker, and it would be worth whatever punishment came his way.
Risa and Jax are great together. Neither are afraid to back down and they both stand their ground to do whatever they feel is right. Risa is willing to break the rules for Jax, refusing to send in her report about Bella until she absolutely had to, in order to give Jax more time with her. When Risa has her suspicions about who may be harassing her, Jax steps up to have the person brought in for questioning, even if it put him at odds with the local police and another military unit.
We get a look into one the drama surrounding one of Jax's best friends and co-workers, Casey, and his ex-wife. It felt like it was building up for them to get their own book, and I hope they do because I was curious about their relationship and found myself wanting to read more about them.
The only reasons I didn't rate it higher was because I was able to figure out who the harasser was fairly quickly, and there were a couple of questions left unanswered. I wasn't sure why the ex-husband of Risa's best friend seemed so angry towards her. I also wondered why Petty Officer Moore had Bella out on the course again, even though she hadn't been medically cleared start working again. It felt like that part was just thrown in to seal Bella's fate as it wasn't clarified.
While this is the second book in the series, it can be read as a standalone. I have not read the first one and had no trouble following along. Based on reading the blurb for the first book, I don't believe those characters even make an appearance in this one, so you can just jump right into the series.
If you enjoy military romance and like animals, this book is right up your alley. With well-written characters and an enjoyable storyline, you won't regret adding it to your reading list.

Book Info:

Publication: August 22, 2017 | Kensington Publishing Corp | Changing Tides #2
Navy Chief Master at Arms Jackson "Jax" Faraday is at a crossroads. He has to decide whether to reenlist or get out while he's young enough to make a difference in the civilian world. Either choice could mean leaving behind his girl: his K-9 partner, Bella. But when she's injured during a training session, Jax's only concern is making sure she's okay.
As the Navy base veterinarian, town local Risa Reynolds is right where she belongs: close to her parents in a farmhouse full of animals—with room to grow. She's seen enough to put military men are on her "not happening" list, because they always leave.
But when a tall, hazel-eyed sailor arrives in her clinic with his dog in his arms, Risa finds herself falling hard. And all kinds of rules will get broken when Jax, a man who sticks to the straight and narrow, learns that there's no predicting the twists and turns of the heart.