Island Fling with the Surgeon by Ann McIntosh is as fun as the title sounds.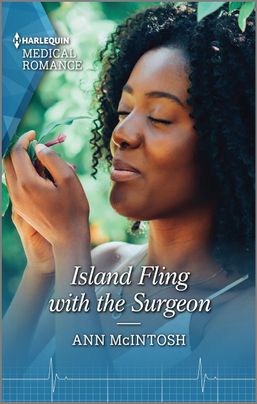 Unexpectedly having to fess up to Nurse Zach about their make-believe romance tale that Dr Gen spun her Mum starts off a fake relationship that starts getting all too real when they become intimate.
I loved the light heartedness feel of the story even though the seriousness of the medical drama's came through. There were alot of interesting and heart pounding drama's and I think Ann did a fantastic job of switching between love and romance and the seriousness of the operating theater. I liked how the families visited and became involved in the story and I enjoyed the touring of the island. All of the above weaved beautifully through out Island Fling. It was fun watching Zach and Gen's relationship level up. I also liked Gen was unique and had a medical condition that was discussed though out the story and how it affects her job.
I really enjoyed Anne McIntosh's latest story. This story is packed with fun, has a lot of medical drama and is set on a beautiful island. The pages sizzle and the main characters, as well as all the minor characters are very likeable. If you haven't read a medical for a while then this is one not to miss.
Book Info:

Publication: August 2021 | Harlequin Medical |
Make-believe?
Or more than she bargained for?
When Dr. Genevieve Broussard convinces nurse Zach Lewin to enter a fake relationship to help keep her meddling mom off her back, she's confident there's no danger of it turning into anything more. Her first priority has to be her surgical career, and both Gen and Zach are still reeling from recent betrayals. But as the summer heat in the Caribbean loosens inhibitions, their fake "affair" is at risk of becoming all too real…