Island Reunion with the Single Dad by Traci Douglass is a May 2022 release which I thought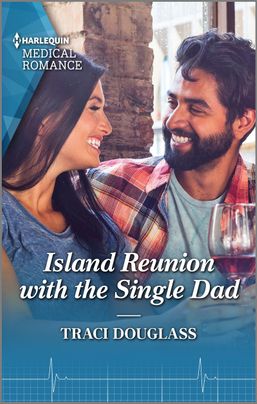 was a beautiful, fun and sweet story filled with emotion and of course lots of medical drama.
Morgan has a delightfully crafted reunion with her one night stand from many years ago but the last years of her life makes her really hesitant to answer to the attraction which hasn't decreased at all. Life has given both Morgan and Ely a good dose of heartbreak.
Ely has his son who is his life and being divorced he's not a fan of long and happy marriages either. Morgan and Ely's story is beautiful and emotional and just lovely… just what's needed in this crazy world!
Throughly enjoyed Island Reunion, it reminded me why i enjoy this trope so much; the stories are just so full; not a word wasted. Really, really enjoyable.
Book Info:

Publication: May 2022 | Harlequin Medical |
Widowed Dr. Morgan needs a fresh start! But the first man that Morgan meets on Whidbey Island in Washington State plunges her back ten years…to a passionate encounter she's never forgotten. Dr Ely is now a single dad—and her new, if temporary, colleague! Yet as their connection bursts back into life, Morgan's resolve to protect her broken heart is sorely challenged. Dare she let herself dream of forever again?