Wedding Season is the third book in the The Carolina Girls by Michelle Major. I read it as a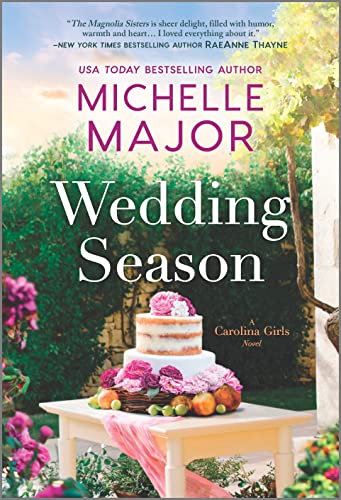 standalone with no problems and I feel like the author did a great job revealing what was necessary from the past to bring the reader up to date. It was beautifully written, and the pacing was perfect. I fell in love with the people and the small town of Magnolia, N.C. and in doing so I really want to read the previous books in the series. The characters were lovable, and their issues were realistic. It was a heartwarming story of forgiveness, faith, regret, and friendships.
Mariella Jacob ruined her career as a top bridal designer when she crashed Alex's wedding and revealed his fiancé was having an affair with Mariella's fiancé. She had hoped for a new start when she moved to Magnolia and opened her boutique, A Second Chance, and became partners at the Wildflower Inn with her two new friends. She never thought she would go back to working in the wedding industry, but the inn had become a premier wedding destination, Mariella wanted to leave all her mistakes behind but Alex moving to Magnolia was a constant reminder of one of her biggest mistakes.
Alex Ralsten, CEO of The Fit Collective, moved the company's headquarters to Magnolia after discovering the small town at a friend's wedding. He tried to avoid her but found his anger was slowly fading away but his curiosity and attraction to her scared him. He had thought she was heartless before but now he saw below her guise and felt connected to her in some strange way. Things become more complicated as Mariella's past is revealed.
Mariella was a strong, take-charge, and resilient woman after facing life's hardships, but she had come to believe she deserved all the bad things that happened. She had to learn to let go of the past, forgive herself, and have faith because her past did not define her future. Alex was the calm in her world of chaos. The book was full of emotions, and drama, and was very entertaining. It is a book you will definitely want to add to your TBR list.
Book Info:

Publication: April 26, 2022 | HQN Books | The Carolina Girls #3
The last person she wants to see in Magnolia, North Carolina, could be exactly whom she's been waiting for…
Mariella Jacob was one of the world's premier bridal designers, but one viral PR disaster later, she's trying to get her torpedoed career back on track in small-town Magnolia, North Carolina. With a secondhand store and a new business venture helping her friends turn the Wildflower Inn into a wedding venue, Mariella is finally putting at least one mistake behind her. Until that mistake—in the glowering, handsome form of Alex Ralsten—moves to Magnolia too.
Mariella ruined Alex's wedding by announcing that his starlet bride-to-be was sleeping with Mariella's fiancé. While he's furious when they're forced to work together, there's no denying Mariella is hardworking, talented…and gorgeous. In fact, though Alex keeps reminding himself that they're enemies, something deeper is growing…daring them to admit that a rocky past might lead to something unexpectedly wonderful.