A Business Engagement by Merline Lovelace: In this Duchess Diaries novel by Merline Lovelace , Lady Sarah is an editor for a glossy magazine which names Devon Hunter as one of the Ten Sexiest Single Men and gains him unwanted female attention which disrupt his privacy. One of his business deals also begins to suffer because of the same and now someone has stolen a twelfth-century Byzantine medallion from his house and done a runner.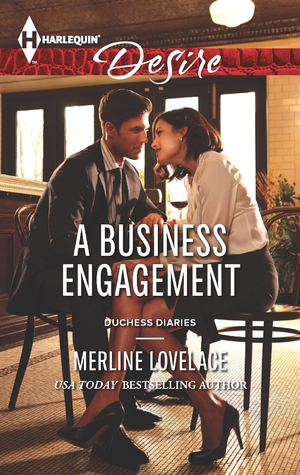 To gain control of the situation and have his private life back he blackmails the sister of the theif, Lady Sarah St. Sebastian into a fake engagement for securing a business deal in Paris. Sarah agrees to play her role because she wants to protect the St. Sebastian name and the honor of her sister, who she believes has a perfectly valid reason for the theft.
Soon the fake engagement turns into a real one when both Sarah and Dev began to feel deeply for each other bringing more complications and desire in their arrangement.
A Business Engagement by Merline Lovelace is a very well written book with likable characters. Though the situations are too convenient and unreal to believe sometimes, it was a enjoyable read. Devon was a good hero and I liked that he did not have the heavy emotional baggage,heroes generally have. Sarah was good and I liked the way she stood up to Dev at certain situations. Gina, Sarah's sister was irritating and though she did not make many appearances, she still annoyed me because of the way she handled literally everything.The pace was very uneven because some parts were rushed while some parts were dragged at times.
Overall A Business Engagement by Merline Lovelace is a good escapism read if you want likable characters with good chemistry. Its best to go with the flow and enjoy the romance rather than over thinking the situations in the story if you want to enjoy this book.
Book Info:

Published September 3rd 2013 |  Harlequin Desire (Book 2256)
In this Duchess Diaries novel, USA TODAY bestselling author Merline Lovelace shows how revenge can be sweet when you have a royal (phony) fiance
When the glossy magazine where Lady Sarah St. Sebastian works as an editor names Devon Hunter one of the Ten Sexiest Single Men, he is besieged by embarrassing attention. The perfect revenge? Force Sarah to play his fiance during a business trip to Paris. Because of a recent family indiscretion, Sarah must agree if she wants to protect the St. Sebastian name. But in the City of Lights, their fake engagement unexpectedly leads to real desire and dangerous complication