In It Happened One Night (Texas Cattleman's Club: A Missing Mogul #7) by Kathie DeNosky, a case of mistaken identity leads to an explosive night between Josh Gordon and Kiley Roberts. Three years later, Kiley moves back to her home town and lands a job as as the supervisor of the new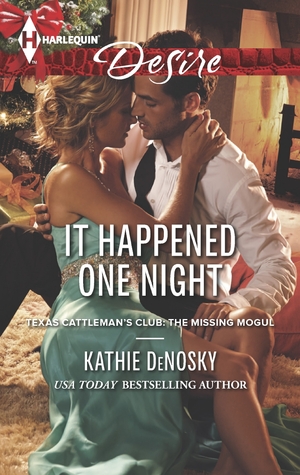 day care center of the Cattlemen's club. Josh is one of the committee members responsible for approving the funding for the new day care center. What will happen when Josh comes to know that the explosive night he shared with Kiley had consequences and he is the father of Kiley's little girl..??
It Happened One Night by Kathie DeNosky is a story based on mistaken identities and misconceptions. The characters were well developed and it was enjoyable to read about them. The plot was interesting and there was never a dull moment in the book. It was a fast read overall but some events were quite rushed and there was not enough time given to digest what was happening when something else turned up. The writing was good and there was enough heat between the characters to get your pulse racing.
Overall It Happened One Night by Kathie DeNosky is an enjoyable read with enough drama and twists to keep you hooked but the fast pace fails at times to make some events clear.
Book Info:

Published December 3rd 2013 by Harlequin Desire (Book 2270)| Texas Cattleman's Club: A Missing Mogul #7
Get ready for a baby surprise in USA TODAY bestselling author Kathie DeNosky's Texas Cattleman's Club novel.
Josh Gordon has no intention of funding the Texas Cattleman's Club day-care center, even if sexy Kiley Roberts is the one asking. Neither has forgotten the explosive night they spent together three years ago. The temptation to mix business and pleasure is undeniable, but it's Kiley's devotion to her daughter that has Josh dreaming of a family of his own. But when Josh questions who the little girl's father really is, will the truth drive them apart or bring them even closer together?