It Takes Two by Jenny Holiday is the second delightful romance in her Bridesmaids Behaving Badly series.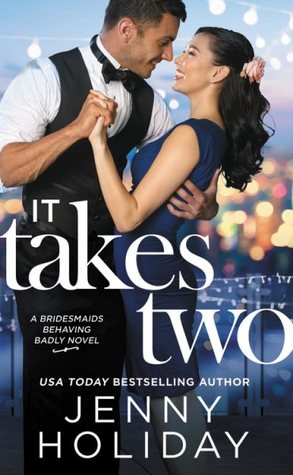 This one is a best friend's sibling trope romance and again revolves around what happens with a group of women friends in the weeks leading up to a wedding.
Wendy Liu is happy for her best friend Jane, she really is – or at least she's trying to be. Jane is marrying Cameron (they met in the first in the series One and Only), someone Wendy isn't sure is suited to Jane. Wendy and Jane have been friends since they were kids, members of the Dead Dads club, and supportive of each other throughout all their troubles. In fact, Jane's older brother Noah had taken on the responsibility of caring for Wendy like another sister, though as Wendy became a teenager her feelings towards Noah had become decidedly not brotherly. When Noah agrees to take her to the prom but then ends up working a double shift, the humiliation is the beginning of a transformation for Wendy. She's never forgiven Noah for the slight, and the approaching wedding means she's going to have to play nice with him until it's over.
Noah is a lawyer, like Wendy, though they are on opposite sides of the bench as Noah is a prosecutor and Wendy is a defense attorney. They've scarcely seen each other for the last several years, though when they are in the same room they spar like worthy adversaries. In fact, it sets off some other sparks as well. A trip to New York where 'what happens in New York stays in New York' results in some sexy times, and the start of a secret affair. As Jane and Cameron's wedding gets closer, will Wendy find a way to let go of the hurts of the past and take a chance on a future with Noah?
The concept of this series is really fun! I loved the first in the series, and this one is equally good. The women friends are all coping with the bride's determination to pull off the perfect wedding. Jane's 'low-key' wedding keeps ramping up a notch, a very amusing turn of events after the more 'bridezilla' type of bride in One and Only. The friendship between the now two unmarried women, Wendy and supermodel Gia is one where they can commiserate over being single and all that entails – including the desire for some uncomplicated sex. For Wendy of course, sleeping with Noah is anything but uncomplicated.
Wendy's painful memories of being stood up for the prom by Noah, things she never shared with him form the basis of her emotional struggles with her feelings about him now. It takes some time before she expresses her real thoughts on what happened to him in some emotionally laden and tear inducing scenes. Noah was in a position as a teenager where he really was focused on one thing, and one thing only – helping his sister and mother to survive financially after the death of their father. He had no idea that his actions had affected Wendy so deeply. That singlemindedness of purpose has translated into a continued workaholic personality, and a need to see Jane looked after, something he is relieved to relinquish to Cameron who will be his new brother-in-law. He views the upcoming marriage quite differently from Wendy, who sees it as the loss of another person in her life with which she is also struggling.
The combination of laughs and emotional moments is what makes me love picking up a romance by Jenny Holiday. She plays with the reader's emotions equally as well as the characters themselves, making the resolution of the romance very satisfying. Wendy and Noah have chemistry that results in great banter and hot sex and when they finally admit their true feelings to themselves and each other, it paves the way for a wonderful happy ending. With engaging secondary characters, a fun and timely plot (wedding fever!) and a sexy romance, It Takes Two is a delight. I can't wait to read the next in the series!
Book Info:

Publication: June 26, 2018 | Forever | Bridesmaids Behaving Badly #2
In this hilarious romantic comedy, USA Today bestselling author Jenny Holiday proves that what happens in Vegas doesn't always stay in Vegas…
All's fair in love and war
Wendy Liu should be delighted to be her best friend's maid of honor. But after years spent avoiding the bride's brother – aka the boy who once broke her heart – she's now trapped with him during an endless amount of wedding festivities. Luckily she's had time to perfect her poker face, and engaging Noah Denning in a little friendly competition might just prove that she's over him for good…
Noah Denning is determined to make his little sister's wedding memorable. But it seems Wendy is trying to outdo him at every turn. Challenging each other was always something he and Wendy did right, so when she proposes they compete to see who can throw the best bachelor or bachelorette party in Sin City, Noah takes the bait – and ups the stakes. Because this time around, he wants Wendy for keeps. And when you're fighting for love, all bets are off.