Italian Summer with the Single Dad by Ella Hayes: When one door closes, a window opens? Or is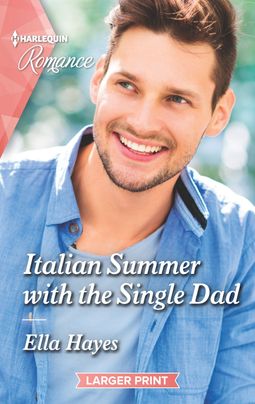 it that when your dream cuts off a new one grows in it's place?
Olivia Gardner wasn't sure what the saying was anymore all she knew is that she was scared of what was coming next and the uncertainty of it all. She had a wonderful job that perhaps wasn't the best but it was a start and it was going to do amazing things for her career, she was sure of it. Then came that moment when she didn't have that any more. What was going to happen now?
Zach Merrill had his life settled. A wife he loved, a baby he couldn't get enough of, a job that allowed him stability and freedom at the same time. He was set for everything he needed for life. He was at least until it all changed with one night. Then the light came infrenquently and the only thing that seemed to be moving forward was his work but even that wasn't doing it's "best"
Olivia and Zach need each other in a moment that they think is only about work and their careers, but will they realize that they need each other for much more than that?
This is a quicker reading than anticipated. Ms. Hayes' style of writing is incredibly fluid and wonderfully direct while still hitting all of the pertinent points and drawing a wonderful picture for the reader. The players are well thought through and the secondary ones even manage interesting minor plots. This novel is not new in theme but combines several into a well done read. A nice peaceful romance.
Book Info:

Publication: February 4th 2020 | Harlequin Romance  |
An inconvenient attraction on the picture-perfect Amalfi Coast!
Wedding photographer Olivia Gardner is thrilled to be spending the summer working at a luxurious Italian palazzo. The only problem? Her instant attraction to widowed single dad and owner Zach Merrill! Olivia can see that guarded Zach's locked his heart away for the sake of his little girl. But watching the way he dotes on his daughter has Olivia hoping she could have a place in this ready-made family.
From Harlequin Romance: Be swept away by glamorous and heartfelt love stories.
"I could go on about how much I enjoyed this book, but…I will sum up by saying that this is an excellent debut for Ella Hayes, and…is wonderfully told to the point that it will stick in the memory after the last page has been turned."