Sugarcoated by Erin Nicholas  is filled with sweet romance, cupcake filling sexy times, special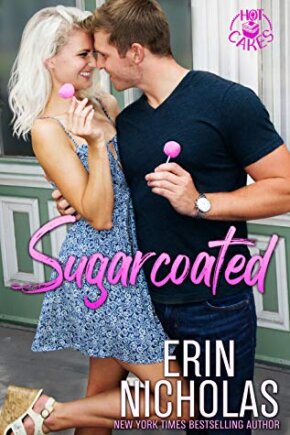 friendships, family love and caring bosses!
Zoe McCaffery has know Aiden Anderson her whole life as he is the son of her mother's best friend as well as being her brother Cam's best friend. So she trusts Aiden and decides he's her best option to take her V-card. When Aiden visits his former hometown of Appleby, Iowa he stays in the house Zoe rents, the house he grew up in with his family.
During his Christmas visit he is awakened, after falling asleep in the room he sleeps in when visiting on Christmas Eve, by Zoe dazzling in a pink teddy in bed with him asking him to be her first and then kisses the dickens out of him. Even half asleep Aiden knows he has to tell her "No" because neither one of them are casual sex people. After the "No" Zoe is embarrassed and isn't looking forward to Aiden's next visit. For Aiden the experience opened his eyes to the realization he loves Zoe and wants to be her one and only. Now to convince Zoe of this. Aiden knows he needs to move to Appleby because Zoe runs the family bakery business, Buttered Up.
When the local snack cake factory, Hot Cakes, goes on sale Aiden finds his way to move to Appleby from Chicago where he and his partners, including Zoe's brother Cam had been running a multi-million computer game design company. Aiden's problem with his plan is that there is a major feud between Zoe's family and the family that owns and is now selling Hot Cakes. The feud is so bad that employees of Hot Cakes will be fired if they shop at Buttered Up. How will Zoe take the news that Aiden, Cam and their partners are buying Hot Cakes?
I loved the characters in this story, especially Zoe and Aiden. Ms. Nicholas always writes characters that are fun, likeable and people you'd love to know and have as friends. She sure hit the target with Zoe and Aiden. I also liked Aiden's confidence, patience and generous heart, Zoe's ability to open up to new things and the small town ambience. This story is a fantastic beginning to Erin Nicholas' new series, Hot Cakes.
Book Info:

Publication: March 24th 2020 | EN Fiction, Inc. | Hot Cakes #1
A hot, funny brother's best friend rom com… with sugar on top!
She's his best friend's little sister. He's known her all his life. He's practically part of the family. There is nothing either of them could do to surprise the other at this point.
Then she showed up in his bedroom in lingerie and asked him to take her V-card.
Okay, that was a surprise.
Aiden is pretty sure Zoe was equally surprised when he told her no.
To say that he didn't handle it well would be a massive understatement. Almost as massive as the amount of work he's going to have to do now to convince her that he wants her. Forever.
Right after he tells her that he's bought the company that's her bakery's biggest competitor.
Maybe if he tells her he's in love with her first, that will help sugarcoat the whole we're-rivals-in-business-now thing.
So, first "I'm in love with you", then "take off your clothes", then "I'm now your business adversary".
Piece of cake.