Jane in Love by Rachel Givney is the first book written by Rachel Givney, a writer and filmmaker from Australia. It was a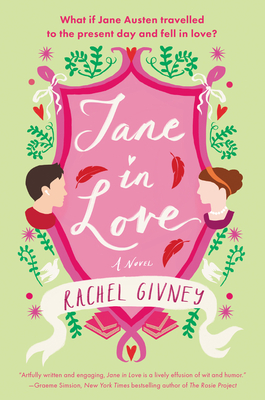 wonderful story, and I loved the storyline of Jane Austen time traveling to modern-day from 1803 to find love. I don't usually read time travel books because it seems like they don't always stay true to the intended time period, but this author managed to pull it off. The scenes that took place in the past were true to that time frame and didn't use modern terms. I loved the way the author portrayed the advancement of technology through Jane's eyes. The descriptions of phones, washing machines, and all the other modern-day technology were wonderful and really pointed out the things we take advantage of in our daily lives without realizing it.
Twenty-eight-year-old Jane Austen loved to read, write novels, and wander through the fields in Bath. Which apparently were things suitors didn't want in potential wives. Her mother was desperate to find her a husband and thought she had finally succeeded only to discover the gentleman had got engaged to another woman. Devastated, Jane seeks assistance from a neighbor who sends her to Mrs. Sinclair, a matchmaker, in London. She slips away in the middle of the night unchaperoned to travel to London to get help in finding true love. Mrs. Sinclair's spell lands Jane into a theater curtain in modern-time England where she meets Fred and his sister Sofia Wentworth who was an actress playing a part in a Jane Austen movie. Jane is bewildered by the amount of attention her work receives in modern times. As she discovers the progress man has made in the future, her past life is being erased. She finally comes to understand what Mrs. Sinclair meant when she told Jane "You cannot have both." As her books start to disappear, she must choose which is more important to her, love or writing.
Fred Wentworth teaches history in modern-time London. When his sister arrived in Bath to film a Jane Austen movie, he tried to talk her into staying at a hotel, but she refused. Sofia was creating chaos in his life and when she brings Jane home with her it becomes more chaotic. He feels something is off about Jane, but he can't help feeling drawn to her. He didn't believe it when Jane finally tells him who she really is and by that time they had both fallen in love. Fred didn't want her to return to the past, but he loved her enough he let her go to do what she loved, writing.
I loved all the attention to detail the author included and her ability to make the reader feel like they were part of the story. While I understand the author was trying to stay true to the history of Jane Austen, I'm a sucker for a happy ending and this one was too sad for me. I found myself crying and hoping Jane would discover a way to have all she dreamed of. Overall I enjoyed the book and look forward to reading future ones from this author.

Book Info:

Publication: October 27th 2020 | William Morrow Paperbacks |
If Jane Austen had the choice between the heart and the pen, what do you think she would do?<?i>
At age twenty-eight, Jane Austen should be seeking a suitable husband, but all she wants to do is write. She is forced to take extreme measures in her quest to find true love – which lands her in the most extraordinary of circumstances.
Magically, she finds herself in modern-day England, where horseless steel carriages line the streets and people wear very little clothing. She forms a new best friend in fading film star Sofia Wentworth, and a genuine love interest in Sofia's brother Fred, who has the audacity to be handsome, clever and kind-hearted.
She is also delighted to discover that she is now a famous writer, a published author of six novels and beloved around the globe. But as Jane's romance with Fred blossoms, her presence in the literary world starts to waver. She must find a way to stop herself disappearing from history before it's too late.
A modern-day reimagining of the life of one of the world's most celebrated writers, this wonderfully witty romantic comedy offers a new side to Jane's story, which sees her having to choose between true love in the present and her career as a writer in the past.