Ride the Tide by Julie Ann Walker is the third book in her Deep Six series. This book has an interesting storyline and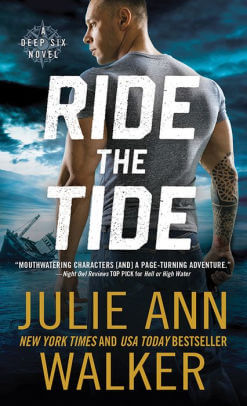 well-developed characters.
Alex Merriweather is a historian who signed on with Deep Six Salvage, a company run by ex-Navy SEALs, to aid them in their search for the Spanish galleon, the Santa Christina, that disappeared in 1624. She is also a twenty-seven year old virgin. She asked Mason McCarthy, part of Deep Six Salvage, to be her first. He wasn't going along with that plan. She was really attracted to Mason and kept her hopes up that he would change his mind. She never said that she wanted forever, although that's what he thought she wanted, but if she is being honest with herself she has to admit that she is falling for Mason.
Ex-Navy SEAL Mason McCarthy works with former team members at Deep Six Salvage. For their latest endeavor they brought in historian Alex Merriweather. She is a sweet little thing but her request that he solve her virginity problem is very unsettling for him. He sees himself as a messed-up guy, not normal. His ex-wife pointed out this major flaw to him. He really hasn't settled into civilian life even though he left the Navy a while ago. Surely it isn't normal to constantly be on the alert everywhere he goes – keeping a watchful eye out for the enemy. That's messed up. He isn't deployed to the sandbox where that is necessary. He can't even stand in line for a coffee without maintaining himself a little sideways so he can watch the entry, on the alert. Alex can do so much better than him. If only he wasn't so attracted to her.
I liked how Alex never gave up on Mason. I also liked how Mason's friends made him face his demons and realize he is a good man. There's lots of fun dialogue in this story. The guys tease each other all the time. I can't quite put my finger on why I didn't like this story better. Something just seems to be missing.
Book Info:

Publication: November 24th 2020 | Sourcebooks Casablanca | Deep Six #3
Once a fighter, always a fighter…
Former Navy SEAL Mason McCarthy is done being a fighting man. Now he and the Deep Six Salvage crew are working feverishly to find the wreck of the Santa Cristina and its legendary sunken treasure. Unfortunately for Mason's peace of mind, chatty, brilliant historian Alexandra Merriweather has joined the hunt and there's no avoiding her. Alex is exactly the kind of distraction Mason can't afford right now…or maybe ever.
When a murderous enemy from Mason's past threatens the Deep Six, he must rely on old instincts and the skills he honed from years of running black ops to make sure nothing touches Alexandra. But with their lives on the line and the adrenaline running high, it's inevitable that sparks will fly.