In Jane Steele by Lyndsay Faye, By age nine, Jane Steele is already set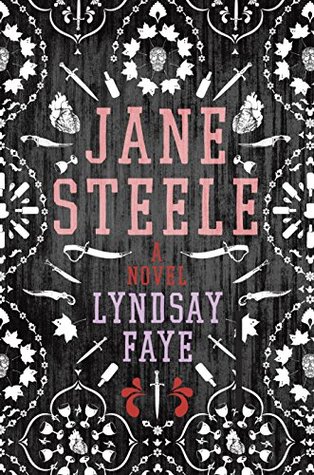 upon a path of lies, murder and deceit. She is an orphan who has lost the only person to ever show her affection, her beloved mother, and now finds herself with a choice: facing hate and shame by staying with her aunt or the unknown future that Lowan Bridge School for girls holds. Wishing to leave the bad memories of Highgate House behind, an estate that should rightly belong to her, Jane sets off to governess school.
'My life's sole mission had once been a simple one: to carve out a tiny sliver of human affection, having none of the commodity for myself.'
The hard lessons Jane learns at Lowan Bridge follow her into adulthood where she has few friends and even fewer prospects. Her struggle to survive over the years has left a trail of people who have met their end after being unfortunate enough to cross her. Then Jane finds an opportunity to move back into Highgate House, this time as a governess. What meets her there, Mr. Thornfield and his friends and staff, changes her plans to take over the estate as she realizes her attraction to him. Love is risky enough but especially so for someone with many skeletons in her past. And Jane isn't sure if Thornfield will ever accept her as she is, even though he's hiding secrets of his own.
"Will you pardon me for murdering someone in your drawing room?" I breathed.
"Oh, Jane." His voice was wracked, vibrating through me, but I shook for more reasons than I liked to think about.
Jane Steele was a darkly intense historical novel openly fashioned after Charlotte Bronte's classic, Jane Eyre. Written in a manner befitting the mid-1800s, this may not have been a quick read but it was quite a gripping tale, nonetheless.
'Killing for love is one of the most tangled acts you can commit, reader, in an already twisted world.'
Shocking in her blatantly honest narrative, our protagonist, Jane, was definitely memorable. I honestly found myself empathizing with her at times while also being repulsed by some of the decisions she feared she was forced to make. Like I said, this was a very dark, very heavy story filled with the difficulties of being a female who holds no title or prospects in London in the 1800s. That's not to say that there weren't moments of tenderness, love and adoration, or even compassion. There certainly were such wonderful moments. But the tone, just like Jane Eyre, was somber.
While Jane's childhood struggles were interesting and set into motion a series of events that would change her future, it was the adult portion of her story that held my attention. The book itself was broken into three parts and it wasn't until the end of part two that I felt fully invested in seeing the story through. At that point, it felt like there was a reason behind Jane's choices and I better understood who she had become. Plus, the complex storyline was gathering speed at that time until it came to a boiling point at the end of the book. I did enjoy the final outcome and thought it was one that fit the characters and the overall theme perfectly.
The grittiness of this subject matter might not be for everyone. But, if you are a fan of gripping characters, twisted and macabre plots, and not squeamish over a few graphic crime scenes, Jane Steele might just be for you. Especially if you enjoy classic Gothic authors such as Bronte, Poe, and Byron.
Book Info:

March 22nd 2016 | by G.P. Putnam's Sons |
A reimagining of Jane Eyre as a gutsy, heroic serial killer, from the author whose work The New York Times described as "riveting" and The Wall Street Journal called "thrilling."
"A thrill ride of a novel. A must read for lovers of Jane Eyre, dark humor, and mystery."
— PopSugar.com
"Reader, I murdered him."
A sensitive orphan, Jane Steele suffers first at the hands of her spiteful aunt and predatory cousin, then at a grim school where she fights for her very life until escaping to London, leaving the corpses of her tormentors behind her. After years of hiding from the law while penning macabre "last confessions" of the recently hanged, Jane thrills at discovering an advertisement. Her aunt has died and her childhood home has a new master: Mr. Charles Thornfield, who seeks a governess.
Burning to know whether she is in fact the rightful heir, Jane takes the position incognito, and learns that Highgate House is full of marvelously strange new residents—the fascinating but caustic Mr. Thornfield, an army doctor returned from the Sikh Wars, and the gracious Sikh butler Mr. Sardar Singh, whose history with Mr. Thornfield appears far deeper and darker than they pretend. As Jane catches ominous glimpses of the pair's violent history and falls in love with the gruffly tragic Mr. Thornfield, she faces a terrible dilemma: can she possess him—body, soul, and secrets—without revealing her own murderous past?
A satirical romance about identity, guilt, goodness, and the nature of lies, by a writer who Matthew Pearl calls "superstar-caliber" and whose previous works Gillian Flynn declared "spectacular," Jane Steele is a brilliant and deeply absorbing book inspired by Charlotte Brontë's classic Jane Eyre.