Jane's Gift by Karen Erickson is a beautiful and sweet romance. Christian Nelson is the fire captain in Lone Pine Lake. Everyone there may consider him a playboy, but he likes his single-guy lifestyle, the freedom and the respectability he has. Little does he know that his life is about to be turned upside down by his friend's sister, whom he offers to give a tour of the fire department as a favor during his slow-time.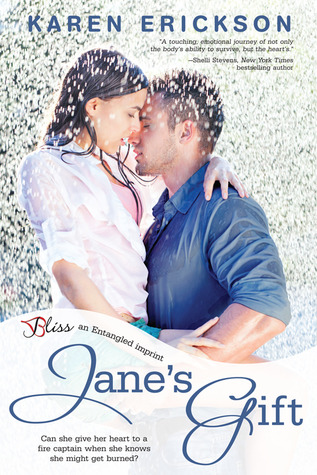 Jane Clark has been in pain and scared of fire since the fire that killed her husband and burned her to the point that she had to be put into a medically induced coma so she could recuperate. Now she dresses, styles her hair and walks in a way to detract from the burns she suffered. She no longer wants to be pitied, but that doesn't mean that she is over what happened.
As Jane visits the fire department with her three children, she finds herself attracted to the handsome fire captain. But she knows that her burns are ugly, not even she can stand to look at them. She avoids mirrors and close contact to others. So she is surprised when Chris asks her out on a date.
Chris will not have an easy time convincing Jane to give them a chance. The beautiful woman that entranced him since the first moment he laid eyes on her will need an even slower seduction. But he is willing to give it his best shot, for he has not felt what he feels for her with any other woman.
Chris and Jane will have a lot issues to work on if they want to be a family. For Jane still fears fires and all the dangers out there, which Chris is always closer to due to his job. And Chris will have to get over any commitment issues and see if he truly wants to have the ready made family that has been stealing his heart.
Rating: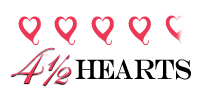 Info: Publisher: Entangled: Bliss (October 25, 2012)
A devastating house fire cost Jane Clark nearly everything: her husband, her confidence, and her looks, with the physical scars marbling her body. Now, two years later, she's living and healing back in her childhood hometown of Lone Pine Lake. The upcoming holidays are the perfect opportunity to bring some Christmas cheer into her young children's lives, starting with a visit to the firehouse, where her brother's best friend has offered to help quell their residual fears.
Lone Pine's resident playboy, fire captain Christian Nelson is happy with his single-guy lifestyle. He's an everyday local hero, so he's never wanting for attention around the holidays. But when Jane Clark shows up, Chris is immediately drawn to the beautiful widow–even though kids and commitment have never been his style.
Despite her brother's warnings about his friend's playboy status and dangerous occupation, Jane can't help but fall for the gorgeous fire captain. The holidays are a time of new beginnings, but can two scarred people find the strength to let go of their pasts to live in the present, when a lifetime together might be the sweetest gift of all?