In The Hero of Hope Springs by Maisey Yates, Ryder Daniels has run Hope Springs ranch since his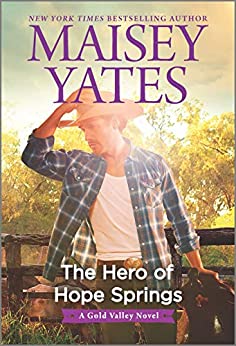 parents died when he was eighteen. He raised his younger siblings, cousins, and a family friend after their parents all died. During this time, Sammy Marshall showed up on his ranch, running from an abusive home. Since then, they were best friends. Sammy was the only person who could understand Ryder, and he was the only one who understood her.
Feeling like something is missing in her life, Sammy decides to become a mother and feels like leaving Gold Valley is the only way to do so. When she tells Ryder, he agrees to help her find someone in town who would be willing to be the father. The only problem is Ryder finds fault with every guy Sammy suggests. Fed up, Sammy suggests he be the father.
Ryder doesn't want marriage or children. He had, after all, already raised a bunch of children, so he has no desire to go through it again. He can't let Sammy go though, so he agrees. The problem is Sammy is still dealing with her past, as is Ryder. Can they both find a way to move forward and find a way to make their family work?
Ryder considers Sammy to be the light to his darkness, but he is the same thing to her. Both of them have been through so much and my heart broke for them. It was wonderful that they had each other to lean on, but they are also able to see things in each other that the other refuses to acknowledge. Ryder knows that Sammy doesn't really want to leave Gold Valley, but she's searching for a family that she never felt she had. Sammy knows that Ryder had basically put all his life plans to the side to raise everyone after the accident, and he's been stuck where he has been the whole time. She knows he needs more than the ranch, even if he doesn't realize it himself.
There seems to be something brewing between one of Ryder's sisters, Rose, and Logan, the man who had been a part of their family since his mother died with their parents. I'm interested to see where that's heading, as well as to finding out if Logan's unknown father is who I think it is. There seem to be hints pointing in that direction in both the previous book and this one, so I'm looking forward to seeing what happens with that.
The Hero of Hope Springs deals with the tough subject of child abuse and the emotional aftermath for the victims, which the author handles well. Above all, it's about hope, healing, love, and family. It's a touching story filled with humor, heartbreak, love, and characters readers will be rooting for to find their happily-ever-after. Fans of friends-to-lovers and small-town romances will surely enjoy this book.
Book Info:

Publication: July 28, 2020 | HQN Books | Gold Valley #10
For as long as brooding cowboy Ryder Daniels has known Sammy Marshall, she has been his sunshine. Her free spirit and bright smile saved him after the devastating loss of his parents and gave him the strength to care for his orphaned family. Only Ryder knows how vulnerable Sammy is, so he's kept his attraction for his best friend under wraps for years. But what Sammy's asking for now might be a step too far…
Something has been missing from Sammy's life, and she thinks she knows what it is. Deciding she wants a baby is easy; realizing she wants her best friend to be the father is…complicated. Especially when a new heat between them sparks to life! When Sammy discovers she's pregnant, Ryder makes it clear he wants it all. But having suffered the fallout of her parents' disastrous relationship, Sammy is wary of letting Ryder too close. This cowboy will have to prove he's proposing out of more than just honor.