Joyfully His by Jamie Beck: Andy is working towards finally getting a second chance. After one mistake, everyone still looks at him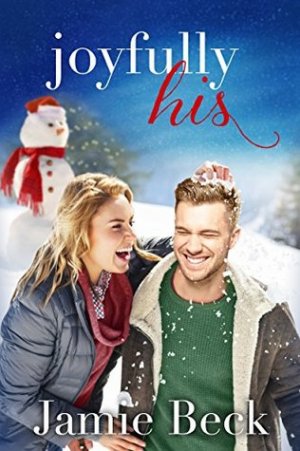 judgment his sister and close friends. He's a good guy, sexy, charming, and always supports his sister. He would love to get his job back as a ski instructor so he can go back to living on his own.
Nikki runs the ski school. She's a fierce skier and can take anyone on the slopes, but it's often meant she's treated as one of the guys. She's smart and fun, but insecure about a scar from a skiing accident.
Andy and Nikki had been really good friends. They've both felt the attraction towards the other, but never got on the same page at the same time. They drifted apart after Andy's DUI and accident, but he's ready to get his job back.
He half shrugged while wearing that adorable grin. "Why'd you kiss me tonight?"
"I asked first."
He laughed. ""Why does any guy kiss a girl, Nik? I wanted to. I like you."
"But why now? What's changed?"
Andy is thrilled to be back at the ski school, but he can't stop thinking about Nikki as more than his boss. They flirt and banter as they pick up their friendship again. Crossing that line could create problems for both, but taking that chance just might be worth it.
"Kinda lost interest in celebrating tonight." She wrinkled her nose. "Any my feet hurt."
He looked down and chuckled. "Amy dressed you, didn't she?"
No use in trying to lie. She nodded in shame. "I don't know why I give in."
"Me either."
Joyfully His is a quick and sweet read that is prefect for the holidays. Jamie Beck provides a tale of second chances in this friends to lovers story. Ms. Beck created interesting secondary characters in their friends and family. Joyfully His can be read as a standalone novella in this series. Fans of Kimberly Lang and LuAnn McLane will enjoy Joyfully His.
Book Info:

Publication: October 24th 2017 | Montlake Romance | Sterling Canyon #3.5
Jamie Beck welcomes readers back to Sterling Canyon, Colorado, where a disgraced but charming ski instructor falls in love while trying to redeem himself.
Folks in Sterling Canyon know that small towns have long memories. Two years after the DUI that injured a pedestrian, Andy Randall is still making amends. He hopes the Christmas spirit will help him get rehired as a ski instructor, but that job will come with conditions. He can't afford another mistake, which is exactly what making a play for his former boss and friend, Nikki Steele, would be.
Nikki races down double black diamonds and hikes mountains better than most guys, unafraid of tumbling down the slopes. But trusting the guy who once shot her down could end in a fall that actually hurts, especially when she'd have to vouch for him with her boss. Still, the resort needs another instructor to handle the holiday tourists, and Andy's sexy grin and relaxed charisma make him hard to resist.
With both of their reputations now on the line, can Andy convince Nikki that the second chance he wants isn't only about the job?