Animal Attraction (Hot in Hollywood #2) by Katee Robert : Katee Robert does it again with the second book in the Hot in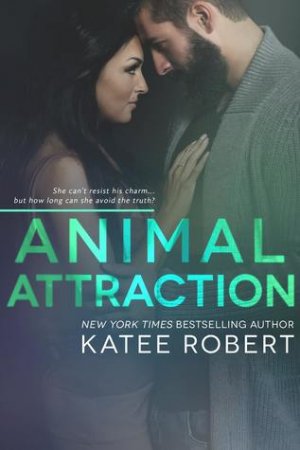 Hollywood Series. The characters in this book we meet in the first book, and let me tell you, the connection between these two was scorching hot! This is the story of Brooklyn and Levi.
Brooklyn James is a private investigator, working for Cora, roommate of Cora and in desperate need of money to pay her bills and her part of the rent. In order to make money, she takes a job investigating the kidnapping of a very expensive dog. What she does not count on was that the man she is investigating is none other than the very hot, very sexy Levi Turnbull.
Levi Turnbull has mad a fortune creating amazing tech games. But this that is not his only passion. He also has a passion for animals, rescuing them and giving them a loving home. When his neighbors dog shows up, abused and malnurished, he does the only thing he can think of, he decides to keep him and taunt his neighbor. But when Brooklyn shows up at his door trying to find out if the dog is in his possession, he wants nothing more than to distract her. The best way to do that, seduce her.
As Levi and Brooklyn fall into a mutually satisfying arrangement, and begin to open up to each other about their families, their lives, their hopes and dreams, Levi begins to wonder if he is honest with Brooklyn, will she change her mind and help him with the dog? And as Brooklyn begins to get to know more about Levi, she begins to wonder if she can go through with investigating him, and potentially hurting the man that has come to mean so much to her.
I love these two characters. They had chemistry, they had a connection, and in the end, Brooklyn had Levi's back. Pulling out all the stops to make sure no harm came to him and to the dog that cared so much about. I love that Levi made his grandmothers pancakes for Brooklyn, something that he had never done for anyone else. If anyone deserves a HEA, it is these two, and HEA they get.

Book Info:

Publication: Published September 19th 2017 | Katee Robert | Hot in Hollywood #2
A private investigator might not be as glamorous as Brooklyn James had expected, but it pays the bills. Or at least it used to. In dire financial straits, she no longer has the luxury of saying no to jobs if she wants to pay her bills—which is how she ends up in a tree, spying on a billionaire who's accused of dognapping. Not her finest moment.
Levi Turnbull made his fortune by creating tech that melds exercise with video games. It sounded great at the time, but now he's got more money than he knows what to do with and he's bored out of his mind waiting for the next game to launch. When he realizes a neighbor has been neglecting his dog, he takes matters into his own hands—by taking the dog. If he's been trolling the neighbor ever since with hilarious fliers around the area… Well, he's only human. When he finds a pretty redhead trespassing on his property in search of the missing dog, he sees the ultimate distraction until the launch.
Brooklyn initially agrees to a date in order to get close enough to Levi to find evidence of his dognapping—but that motivation gets complicated when they end up in bed together. She's unable to resist his charm, and as they grow closer, Brooklyn can't avoid the truth—not only did Levi steal a million dollar dog…he's in danger of stealing her heart, too.