In Just a Girl by Ellie Cahill, Presley Mason is an amazing singer, but instead of doing what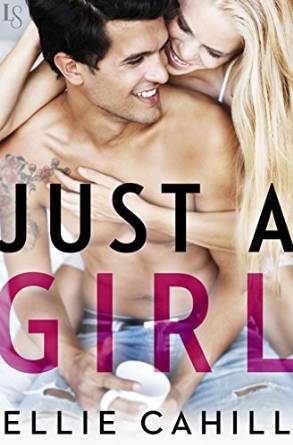 she excels at, she's returned home after being kicked out of her own band. She's lost her will to sing, but working alongside her parents in their renowned music store and everyone pushing her to give singing another try, she finds she can't avoid her talent forever. Not when the gorgeous guy teaching guitar lessons at her parents store needs her help when his band, Jukebox Bleu, lose their singer.
Paul Kellerman suffers from stage fright, and anything he does to help calm his nerves doesn't seem to work. What's worse, it seems his band will need to look for a new lead singer when their front man finds himself called up for Military duty. Presley Mason is the perfect option, but her joining his band comes with a condition, and not one he's going to be happy about.
Ever since reading my first book by Ms. Cahill, I've been looking forward to reading another of her stories, and I've got to say that this was a very entertaining, fast-paced, amusing read that had me captivated from start to finish, even if it was only told by the heroine's point-of-view. The way it started with the prologue was great, as it shows how good Presley is and that the band that kicks her out doesn't deserve her. She's too talented to let their stupidity get her down for long, and I liked the way she bounced back by help from her friends, family and Paul.
He smiled. "I need to remember to leave before the Queen of the Vacuum starts laying siege to my lesson rooms."
"Queens of the Vacuum is the name of my sludge-metal cover band." I shaped my hand into the classic rock horns.
"Oh yeah?"
"Because the music sucks so bad."
There were some light-hearted moments where Paul and Presley tease each other that had me smiling. Then there are playlists at the end of some of the chapters that had me laughing with the best one being: Playlist for a Car Ride after an Encounter with the Police that didn't end in an arrest. However, the dialogue was also intense due to the choice Presley makes about her growing relationship with Paul, her reaction to everyone pressuring her into singing again when she's not ready; and Paul's way of dealing with his stage fright, which is really bad. He gets so stressed out, but the heroine and her friends do their best to help him get over it. Presley tries to do right by him while his band-mates are the ones that end up causing him grief, but not before Presley causes him a lot first.
I really liked both Paul and Presley, but it was the secondary characters that added a little extra something that made this story worthwhile. Presley's parents really help her with their advice and patience, even if she does lose her cool at one stage because she feels pressured by their desire for her to sing. Then there's Paul sister and the way her and the heroine met. She's quite desperate to talk to her brother, and ends up completely embarrassing herself and Presley.
"It's fine," I said. "It was an accident."
Paul rolled his eyes. "Or my sister is nosy."
"You didn't even close the door all the way!" Kenzie protested from behind him. "How was I supposed to know you have a naked girl in your bed?"
Presley is strong, brave and talented. It takes time for her to find the courage to sing again, because she feels betrayed by the band that let her go. But with encouragement from those that love her, it was good that she finally rediscovered why she loved to sing. No way could she allow her talent to go to waste. Indeed, I did feel sorry for her at the beginning. She had a right to be mad, considering she had a big part in forming the band that kicked her out. However, if they hadn't, she never would have found another band that treated her with the respect she wanted.
While Paul, he goes through a lot in this story. He and Presley are really good together, and I liked how their relationship progressed, except when she makes a bad decision about their growing relationship that sends him on a downward spiral. How could Presley not realize how selfish she was being? However, I was glad that he finally realized he needed help with his anxiety. He couldn't continue to deal with it how he was dealing; otherwise he could have found himself in serious trouble.
Overall, this was a really good book where the sex scenes were hot and passionate. Paul certainly knows how to keep Presley satisfied; a lot more than her ex did. Ms. Cahill wrapped this story up nicely with the way Presley proved to Paul how much she loved him with her performance. Yet, it was the epilogue that had me cheering because it showed how well the band, Jukebox Bleu, was doing. I would recommend Just a Girl by Ellie Cahill, if you enjoy rock star heroines that have to decide what's more important – her career or the man she's falling for.
Book Info:

Published: June 21st, 2016 | Loveswept |
After getting kicked out of her own band—by her own boyfriend—Presley Mason finds herself back in Wisconsin, helping her parents run their renowned music store. Instead of belting out powerhouse vocals to sold-out crowds in L.A., she's stocking shelves and inspecting rental violins. But the shop isn't all bad: When she's vacuuming up late one night, she bumps into the guitar teacher with the smoldering amber eyes and the killer tattoo. And that's when things take an interesting turn.
Presley soon finds that Paul Kellerman is as good in bed as he is on guitar. So why isn't he stoked to share his band, Jukebox Bleu, with her? Turns out Paul has crippling stage fright, which he's been self-medicating without much success. But when Jukebox Bleu's lead singer gets called for military service, the other members beg Presley to front them. Even though she swore never to mix men with music again, the temptation to perform is almost as intense as her chemistry with Paul. Now Presley must decide what's more important: a second chance at love . . . or rock stardom.