In Just a Heartbeat Away by Cara Bastone, Sebastian Dorner met his son's teacher, Via DeRosa,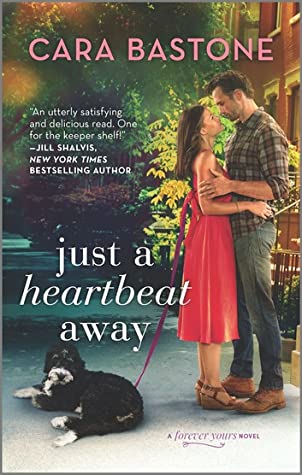 shortly after the death of his wife. His life is unraveling, but with a checklist provided by Via, he's able to get back on track. Two years later, the pair meet again. Via is now a counselor at a new school, and Sebastian is working at the school as well. He has never forgotten how she saved him, and she's the first woman who has sparked an interested in him since the death of his wife.
Via, a former foster child, has searched for stability her whole life. She thinks she has finally found it with her new job and a steady boyfriend. Then she runs into Sebastian again, and her carefully planned world is thrown for a loop. She realizes the boyfriend she has isn't necessarily the one she wants, and the one she wants isn't necessarily the one she should have. Will Sebastian be able to convince her he's worth the risk?
Both Via and Sebastian are sympathetic characters. They had both been through so much pain and struggles in their lives, which makes them both a little wary. Via has control issues and wants everything to be stable. Sebastian doesn't really want to put himself out there for any woman. He only wants to be a good father for this son. Both are concerned about appearances; Via worries about how others will view her dating a student's father, while Sebastian worries about how people will view their age difference. At times I thought both were blowing their concerns out of proportion.
I liked how they don't rush into anything. They take the time to really get to know each other and build up a friendship before moving on to a romantic relationship. It also gives Via time to build a relationship with Matty, Sebastian's young son. I loved how Via interacted with him, and how easily he accepts Via into his life. I also enjoyed his interactions with Sebastian, and it's clear that Sebastian is trying to be the best father he can be.
Just a Heartbeat Away is a sweet romance with two people trying to find what they've been missing in their lives. It's well written with charming characters, amusing secondary characters, and a little boy readers will adore.
Book Info:

Publication: June 30, 2020 | HQN Books | Forever Yours #1
Newly widowed dad Sebastian Dorner was unraveling at the edges—until his son's teacher, Via DeRosa, threw him a lifeline. Now, two years later, they reconnect at Matty's new school, and an inconvenient but unmistakable jolt of attraction crackles between them. But why does the first person to spark with Sebastian in years have to be a millennial? Is twentysomething Via really too young for him or does fortysomething Sebastian just feel too damn old?
A former foster kid, Via's finally forged the stable life she's always dreamed of—new job, steady income, no drama. The last thing she needs are rumors about her and a single dad at school. But why does she keep being drawn into his capable, worn-flannel orbit? And why does being around Sebastian, Matty and even their dog, Crabby, seem to spark so much want?
They're trying to ignore the tension threatening their friendship. But sometimes what'll heal you is just a touch—and a heartbeat—away…