Hello, Summer by Mark Kay Andrews: Conley Hawkins has her farewell party at the Atlanta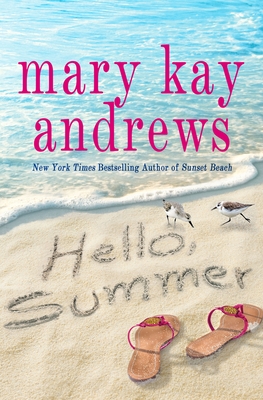 newspaper before embarking on a new job with a digital paper in Washington,D.C. Unfortunately, that paper folds before she can even move, so she is suddenly unemployed . She decides to go to Silver Bay, Florida, which is located in the Panhandle, to stay with her grandmother. Conley has been quite remiss about visiting family and friends there, blaming her busy life.
Conley finds her grandmother has truly slowed down and her sister has not been happy that she has been left to look after things, including the barely surviving family newspaper. Conley's sister gives her the job of editing and sprucing up the newspaper's social column, "Hello, Summer" that has long been written by woman who is an institution in the town, so she cannot be fired no matter how poorly written her columns are.
Things suddenly change for the small beachside town when a longtime Senator is killed in a one car accident in the early hours of a morning. Conley and her friend Sean Kelly are witnesses. They start to wonder how this accident came to pass. Conley 's journalistic background has her digging into past history and secrets that may put her and her family at risk.
Having been a long time fan of Mary Kay Andrews aka MKA, I know it is time for summer when she has a new book come out. Her title as the Queen of Beach Reads is a very fitting one. She brings the smell and feel of the beach to life. The food mentioned made my mouth water.
Hello, Summer combines romance and mystery together to make for a highly entertaining read. Who doesn't love a story about long buried secrets and second chances at romance? The characters are often quirky and some downright loathsome, but all are authentic. The author draws attention to dementia that changes the dynamic of so many families.
The author confesses in the notes at the end that many characters are based on those she knew during her tenure as a reporter. I believe that it was almost an inside joke for her about the young photographer in the story. His last name was Torpy which is the name of a current columnist for the Atlanta newspaper.
If you haven't read any of MKA's other novels, what are you waiting for? If you are already a fan, Hello, Summer is a must read for summer 2020.
Book Info:

Publication: May 5, 2020 | St. Martin's Press |
New York Times bestselling author and Queen of the Beach Reads Mary Kay Andrews delivers her next blockbuster, Hello Summer.
It's a new season…
Conley Hawkins left her family's small town newspaper, The Silver Bay Beacon, in the rearview mirror years ago. Now a star reporter for a big-city paper, Conley is exactly where she wants to be and is about to take a fancy new position in Washington, D.C. Or so she thinks.