Just a Little Married by Reese Ryan: Riley George's family has been very successful and Riley is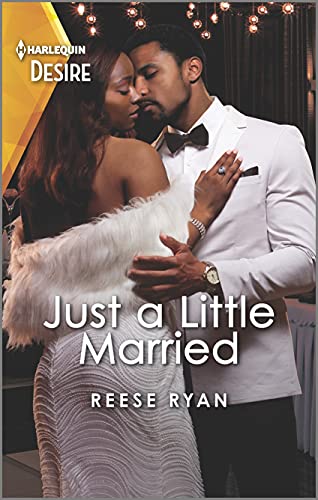 currently in charge to setting up a charity gala for their foundation, which she now heads. She decides to have it in Moonlight Ridge near Asheville, NC. She has many happy memories from there. Her only concern is working with Travis Holloway who is back there helping while his adoptive father recovers from a serious health issue. Travis is a celebrity chef whom she wants to prepare the food for the gala.
Riley also has another proposal for him. Her late grandfather left her a sizable inheritance. One of the conditions is she marries a man with enough money that he won't just be in it for the money. Riley has already lost a potential fiance' who was just after the cash. Now that Travis is doing well he would be a good candidate. Riley tells Travis that the marriage can be in name only and would only have to last for a year. Travis is reluctant, but his two brothers convince him to give it a try.
Will Riley and Travis be able to keep things all business or will the passion from their past take over?
This is the third in a series and Reese Ryan ties up the loose ends from the first two perfectly. We learn lots more of Travis and his earlier life with some twists thrown in. It is amazing to me that three different authors wrote this trilogy with excellent continuity.
Since this novel is from the Harlequin Desire line the reader knows there will be plenty of sizzle. The reader can see how the Riley and Travis find it hard to fight their renewed feelings and attraction.It is also lovely that the reader gets to see more about the father Jameson, his recovery and finding love at an older age. Love is not just for the young, of course.
You will want to read this series in order. Each book builds on the other and the characters grow in each one. I will look forward to more works by each of these talented writers.
Book Info:

Publication: September 28, 2021 | Harlequin Desire | Moonlight Ridge #3
She's proposing a convenient marriage to the man she can't resist. What can go wrong? Find out in this conclusion to the Moonlight Ridge trilogy from Reese Ryan.
She needs a husband…fast.
Could her former flame be perfect for the job?
To claim her inheritance, philanthropist Riley George needs to tie the knot—now! Desperate times call for desperate measures, so she turns to Travis Holloway—the celebrity chef catering her gala and her ex-lover. Can she make him an offer he can't refuse without giving in to an attraction she can't deny?
If Travis can keep things strictly business, he'll save his family's luxury resort. But it's never been about business with Riley, only pleasure. And this agreement on paper is about to tempt them into reckoning with the past…
From Harlequin Desire: A luxurious world of bold encounters and sizzling chemistry.
Love triumphs in these uplifting romances, part of the Moonlight Ridge series:
Book 1: Homecoming Heartbreaker by Joss Wood
Book 2: Best Laid Wedding Plans by Karen Booth
Book 3: Just a Little Married by Reese Ryan