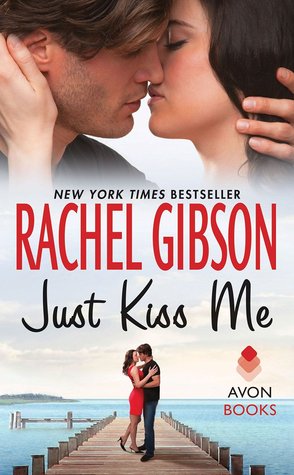 In Just Kiss Me by Rachel Gibson, After a heart attack at the age of thirty-three, Harrison 'Henry' Whitley-Shuler left his frantic work days on Wall Street behind for the slower pace of his hometown, Charleston, South Carolina. Doing custom woodworking has always been an interest but it was never deemed good enough for his high society mother. Neither was Vivien Leigh Rochet, who grew up on the family's estate in the carriage house. But years of hard work has put Vivien on the top of the A-list in Hollywood, turning her into someone Henry thinks he no longer recognizes. Although he has to admit she's hot as sin.
'He was not a fan of Vivien Rochet… He didn't care if she appeared on coffee mugs and movie posters; he just wasn't impressed by a woman who seemingly cared so little about anyone but herself.'
Movie star Vivien is called back to Charleston to deal with a tragic family issue and sees Henry, his brother Spencer and their mother Nonnie after years of being on the opposite coast. While she and the two brothers still have the same sort of antagonizing relationship they always did, Vivien is drawn to Henry in a way she didn't expect. He feels the connection as well, and it isn't long before they have to decide if they should give in to their newfound attraction or leave well enough alone.
"Tell me what you want." His lips pressed into hers, not quite a kiss and entirely too short. "Ask anything."
…"Henry," she whispered and rose onto the balls of her feet. She looked into his deep brown eyes and swallowed hard. She'd never been the kind of girl to ask anyone for anything. "Just kiss me."
If you combine two headstrong characters, lots of Southern sass and charm, and a complicated history, you get Just Kiss Me. Let me just say that Rachel Gibson knows how to write one heck of an entertaining and sizzling hot romance.
Rachel Gibson is one of my tried and true favorite authors when it comes to solid, dependable contemporary romance. I know each book will be well-plotted out and will have great chemistry between the hero and heroine. Of course some couples I like more than others, but I know I'll enjoy the story overall anyway. And just like in her other books, the pairing of Hollywood superstar Vivien and former Wall Street banker Henry was just different enough to see sparks fly.
Well, Vivien and Henry were one of those couples that I got a kick out of and cheered on right away. They grew up together and didn't get along so well as children/teenagers. So even as adults they had a tendency to tease and antagonize each other. But the attraction between Henry and Vivien couldn't be denied. I thought that not only were they a fun couple, they brought out the best in each other's personalities. They did have some angst to work through as the story progressed, but it was done in a way that didn't seem false or rushed.
There was also an emotional depth that I didn't realize would be part of the storyline which turned this into a richer, fuller book. It wasn't just a fluffy romance, but a tale with family drama and it even dealt with mental illness. I won't give away all of the secrets. But I can say that there were somber moments with grief pulling Vivien down, while other moments were shocking when some of the truths were revealed. Then again, there were times where I laughed out loud at Henry and Vivien's comical conversations and at the snippets of Vivien's childhood diary we got between chapters. (Oh my goodness! I loved how spunky she was.)
Whether you are new to Rachel Gibson's work or already a fan, I think readers will enjoy the time they spend with Henry and Vivien in Charleston. This would be a perfect addition to anyone's summer reading list.
Book Info:

 Published July 26th 2016 | by Avon |
New York Times bestselling author Rachel Gibson returns with this dazzling love story filled with sizzle, sass, and just a bit of southern charm…
"Hello, Ms. Vivian . . . it's been a long time."
And with those words, Vivian Leigh Rochet nearly melted. It's been years since she last saw Harrison Whitley-Shuler. She was a teenager scrubbing houses for a living. He was the gorgeous son of rich parents, not fit for the likes of her.
Vivian had vowed to get out of Charleston, become a big Hollywood star, and stick it to the snooty girls who made her cry.
She got what she wanted—and more—but why does her glamorous life seem so trivial?
Harrison got out too . . . making it all the way to Wall Street, until a heart attack forced him to trade in his cufflinks for a good set of hand tools.
Making furniture soothes his soul, but escaping the Whitley-Shuler heritage is nearly impossible. And now he's come face-to-face with the one who got away. He's not looking for love. He's not even looking for sex . . . so why is resisting her the hardest thing he's ever done?