In Just Last Night by Mhairi McFarlane, Eve cherishes any time she gets to spend with her long-time best friends: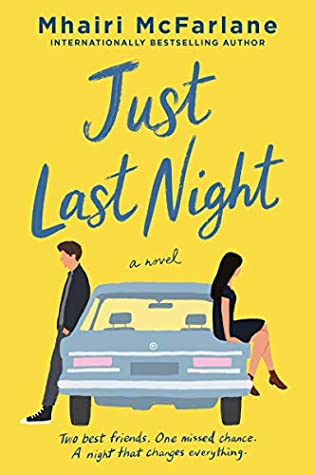 Susie, Ed, and Justin, with all of the shenanigans they get up to making up for her monotonous day job. And she knows they'll be there for each other, regardless of what's going on in their lives. Eve is also grateful that her crush on Ed hasn't come between them or caused any friction in their nights out as a group considering there was a time she thought they would end up together. But it seems they're not meant to be.
'I hate that even now, at the sight of him in his raincoat and rain-damp hair, I want him to hug me. You cannot reason with what your senses crave, it seems.'
After a night of trivia, drinks, and lively banter, Eve and crew go their separate ways. But then tragedy strikes. Shaken and filled with grief, they trundle along as best they can to make sense of a senseless accident that cut short a life well-lived but left unfinished. Eve is further rattled when the truth comes out about people she thought she knew better than anyone else. It seems her whole life has changed in no time flat. As she begins the grueling process of sorting it all out, she realizes that she is capable of more than she ever imagined. Including forgiving and taking bold new steps towards her happy ever after.
"If I've done anything I'm ashamed of, I just avoid it like the plague, job done. Denial is a very underrated coping mechanism."
A deeply emotional novel about regrets, secrets, friendship, and loss, Just Last Night wowed me with its layered storyline and Mhairi McFarlane's distinctive voice.
"Why do I feel we understand each other so, so well, Evelyn?…It's like my whole life was about traveling back to you."
I really think Just Last Night is my favorite of Mhairi McFarlane's books I've read so far. It was impressive the way she handled the mix of serious issues with the hilarious antics of a raucous quartet of friends who'd known each other for over a decade. I will warn, though, that it wasn't easy to get through the somber parts of the story–have your tissues handy!!–but other parts had me giggling out loud in a way only McFarlane can do. The combination was a heady blend that quite honestly made me an emotional wreck…until the lovely ending.
Told strictly from our heroine Eve's (wonderfully, sarcastically British) POV, I liked her right away. She was unique, witty, still rocking the Goth look, and unfailingly loyal to her tight group of friends. The tragedy that altered their lives forever after a night out together gutted me and left me reeling, wondering how they would carry on. Eve and her besties all had some grieving–and some growing–to do, for sure.
The truths that came out in the aftermath was when it got really complicated. I appreciated that McFarlane cast them in a realistic light, letting Eve, Ed, Susie, and Justin all make mistakes over time and had them deal with the consequences. I also liked how Eve's perception of the people in her life changed as she grew emotionally. It took some heartbreaking moments, but she finally ended up exactly where–and with whom–she belonged.
Just Last Night will undoubtedly captivate with the raw emotions and perfectly imperfect characters Mhairi McFarlane created. The convincing narrative alone is worth a read but when paired up with such a stellar cast? It's unputdownable.
Book Info:

Publication: May 4th 2021 | William Morrow Paperbacks |
International bestseller Mhairi McFarlane explores lifelong friendships, long-buried secrets, and unexpected love in a heartfelt, emotional new novel, perfect for fans of Evvie Drake Starts Over, The Two Lives of Lydia Bird, or In Five Years.
Eve, Justin, Susie, and Ed have been friends since they were teenagers. Now in their thirties, the four are as close as ever, Thursday night bar trivia is sacred, and Eve is still secretly in love with Ed. Maybe she should have moved on by now, but she can't stop thinking about what could have been. And she knows Ed still thinks about it, too.
But then, in an instant, their lives are changed forever.
In the aftermath, Eve's world is upended. As stunning secrets are revealed, she begins to wonder if she really knew her friends as well as she thought. And when someone from the past comes back into her life, Eve's future veers in a surprising new direction…
They say every love story starts with a single moment. What if it was just last night?