In Just One Night (The Kingston Family #1) by Carly Phillips, Linc Kingston has been thrown into a ton of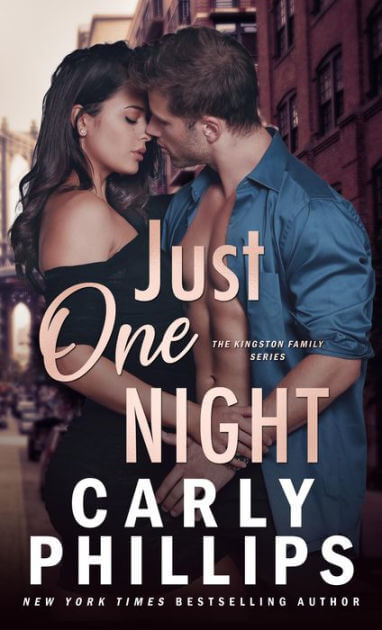 work since his father passed away and left a mess behind at their family's real estate firm. No stranger to working long days anyway, he's lucky to have his best friend, Jordan Greene, as his assistant. She knows exactly what Linc needs to do his job almost before he even asks. If only his pesky attraction to her would finally disappear. He's been feeling this way for years yet he still can't help but wonder what would happen if they took things to the next level. When they go on an unexpected trip to Florida to meet his half-sister Aurora, things take a sexy turn between Linc and Jordan. Something he hopes won't mess with their friendship.
'Jordan had always been his best friend. He should have realized sooner that she was his everything.'
Jordan grew up knowing that her and Linc's lives might intersect, considering her mother was a housekeeper at his family's estate, but they are from totally different worlds. That's why their rather unlikely friendship has come to mean absolutely everything to her. And Jordan will do anything to protect it. When their chemistry gets the better of them down in sunny Florida, she tries to keep things platonic with Linc going forward. But he makes it difficult, with his smoldering looks and sexy, knowing grins. It all goes way off the rails when Jordan realizes she's pregnant. Something sure to scare off her BFF. If only she would have realized that one night of passion could have the potential to change everything so drastically.
'She didn't know what the future held, and yes, thinking of things imploding and changing scared her. But she wasn't willing to walk away from him now.'
Just One Night was a scorching hot beginning to Carly Phillips' new Kingston Family series that will have readers fanning their faces. Between the swoony friends to lovers relationship and the 'surprise baby' plot twist, there was a whole lot to love about this romance.
"I was so insistent on not wanting to lose what we shared that I was blind to what we actually were. To what we are."
"And what is that?" she asked, her voice thick..
"We're best friends… Soul mates." He brushed his lips gently over hers. "And very much in love."
I petition that we should start calling Carly Phillips the Queen of Hunky Alphas, because holy hotness! Linc was pretty much everything you could want in a hero. He was sexy, kind, and compassionate while still having a tough-as-nails side when it came to business or protecting his loved ones. He was extremely loyal. Family meant *everything* to him. And yet Phillips painted Linc in a realistic light, showing his flaws and his broodiness as well as how he could sometimes step in and take charge too quickly. But he was always ready to make amends when he was in the wrong, so how could you not like him? And did I mention Linc was super sexy? (lol)
Jordan was no slouch either. She was the kind of heroine that I find it easy to relate to. I liked that she had a solid head on her shoulders. She knew that she and Linc came from different worlds socially so instead of using it as an excuse to not date him, she simply wanted him to make sure he knew what they were getting into if they went out together in the public eye. Jordan was very smart, organized, and loved helping others. It was her generous nature that made Linc's newly found sister Aurora feel comfortable, which was wonderful to see. But Jordan had been hurt in the past when it came to love. So it was interesting to see her go through a genuine range of emotions as she came to terms with her attraction to her BFF Linc, and also when she found out she was pregnant. Phillips always knows how to use just the right amount of depth with her characters' feelings. And this book was a lovely example of that.
If you're looking for a feel-good book that has the right balance of heat and heart, Just One Night will be the perfect easy read for you. Highly recommended–just like with all of Carly Phillips' work.
QOTD: Neither Linc nor Jordan wanted to risk ruining their long-time friendship by pursuing their attraction. Do you think being friends first usually helps or hinders a romantic relationship?
Book Info:

Publication: Published April 20, 2021 | CP Publishing | The Kingston Family #1
She's the woman he can't live without.
The one he can't risk screwing up their relationship by sleeping with her.
Linc Kingston doesn't accept anything less than perfection. Not in his billion-dollar business or in his personal life. He has it all. Except one thing. His personal assistant and best friend in his bed, moaning his name. No matter how much Linc wants her, she's completely off-limits.
Jordan Greene grew up the daughter of the housekeeper at the Kingston estate, where she met and bonded with Linc at a young age, despite their economic differences. But no matter how close they are now or how much their attraction simmers beneath the surface, they're still from two different worlds. Besides, Jordan isn't about to risk losing her best friend for one sensual night.
Jordan might be the only woman who can handle Linc and his domineering, bossy attitude, but beneath that gruff exterior is a vulnerable man who, despite his wealth, has had a less-than-charmed life. And when Linc's father dies, she's there for him—unwavering in her friendship.
Until one night of passion and a positive pregnancy test changes everything.