His Forever Girl by Liz Talley: Tess Ullo meet Graham Naquin in the local bar after he's had a potentially life changing job interview. The chemistry between them is strong and immediate. Despite their best efforts to take it slow, they can't help but give in the magic of the night where anything seems possible. After a hot and surprisingly tender night together, they are both cautious but certain they found the "one." Graham agrees to keep in touch with Tess to let her know if he gets the job and will be moving back to New Orleans.
"Maybe meeting Graham at Two Legs was a moment-in-time thing. What if there would never be a black dress, nice dinner and moonlight? What if Graham didn't get the job? Never walked back into her world again? Would she regret the missed chance to immerse herself in him? Yeah, she would. So…"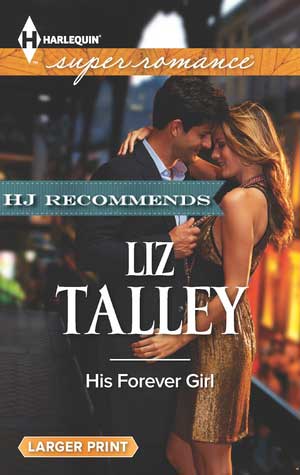 Graham can't believe the positive turn his fortunes are taking. He feels confident he's scored his dream job, he's met his dream girl in his home city, and he'll have the opportunity to be more involved in his young daughter's life. Nothing is going to go wrong this time.
Except it does. Graham's dream job is also Tess' dream job: CEO of Ullo Float builders, her father's company. Worse than discovering her father has chosen an outsider over her to take over the company is finding out it's the man who rocked her world and never called again. Heartbroken by the way both her father's and Graham's betrayal, Tess quits and goes to work for the competition–Graham's ex, the mother of his daughter, and her husband, his ex-best friend.
Even with Tess furious at him, the employees at Ullo distrustful of him, and his ex making his life difficult, Graham still believes that things will work out for the best, that their meeting was fate:
"He'd tried to tell himself he didn't want her. He'd convinced himself things were too complicated. But still his mind and heart nudged him away from being logical toward the one thing he'd always clung to–hope."
I loved His Forever Girl by Liz Talley. His Forever Girl is one of those books that you want to throw in frustration at the choices they're making but you can't because you have to know what happens and you don't want to lose your place. Tess is a fantastic heroine–she's take charge and kick butt, but she's also sensitive and easily hurt by those she loves. She's fierce and determined in ways I wish I could be. I would be devastated if I was passed over for a promotion without consideration, but I'd probably just take it. Tess, on the other hand, knows the worth of her skills and decides to strike out on her own.
Graham as a hero is a breath of fresh air. Here is a man who's a sexy nerd who knows his way around a woman. He has great business skills and is a wonderful dad, but he still has some insecurities to work through. He's determined not to mess up the opportunity to work his dream job, but is scared stiff that he'll find a way to stuff it up. He's a beta with a generous enough dollop of alpha to make him a good match for Tess' fierce take no prisoners personality.
The great thing about this story is that Ms. Talley makes it clear why Tess' father chose not to give her the job and you can understand his point of view completely. You even get to see why Graham never called and can forgive him for his mistakes. You see the whole terrible mess from everyone's side and just want so much for them all to figure it out. I couldn't put this book down until I knew I got Tess and Graham to their happily ever after moment. His Forever Girl was my first Liz Talley book, but it won't be my last.
I would recommend His Forever Girl to anyone who enjoys reading a book where no one is right or wrong, love sometimes makes the hard decisions that much harder, and you manage not to throw the book/kindle across the room because you can't bear to put it down until you see these two stubborn people and their families basking in Happily Ever After. Oh, and I also recommend to anyone who loves New Orleans, Krewes, Mardi Gras floats, and books where families are an important part of the story.
Book Info:

Published February 4th 2014 by Harlequin
This forever is off to a rocky start!
Meeting Tess Ullo is definitely a sign life's improving for Graham Naquin. After their spectacular night together, he knows there's a lot more to explore between them! Good thing he's aced the interview that will bring him home to New Orleans, his young daughter and Tess.
Too bad things don't go the way Graham hoped. That job he lands running a float-building company? Tess thought it was hers so she quits to work for the competition. As they face off in business, he admires her talent…and keeps thinking she's the one for him. Now he has to persuade her!