Kidnapping the Brazilian Tycoon by Carmen Falcone is a truly original marriage of convenience story. The book has a lot going for it; philanthropy, hot sex with an incredible couple, the Brazilian landscape and of course, handcuffs.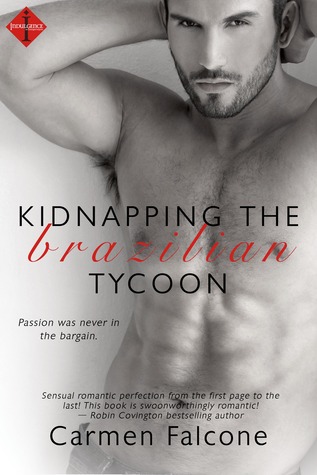 Addison Reed is a fighter, so when her boyfriend loses his life due to protecting a woman of the Kwanis tribe, she steps up and takes over as their liaison to the outside world. While dealing with her grief, she goes back to the states in order to get in touch with the billionaire landowner of the Indian territory. The Kwanis are going to be relocated once again, in order to make room for modernization. Addison needs to stop the land sale so that the primitive yet productive tribe can remain and prosper. That is where Bruno Duarte comes in.
Bruno is an incredibly handsome, self-made Brazilian billionaire with many demons from his past that he is finally beginning to deal with. His first order of business is to get married and bring his new bride home to meet his dying father in Brazil. Due to a tremendous conflict, Bruno left his home country fourteen years ago and never looked back. Regardless of the past, Bruno wants to honor his father's dying wish, for him to be married and settled.
Addison finally locates Bruno at a bar in New York City. Up until this moment he has successfully dodged all her calls, emails and texts. Bruno has no desire to listen to her request, for he is determined to sell the Brazilian land and leave the past in the past. Due to Addison's creativity and resourcefulness, they strike a deal. A fake marriage and the appearance of being a happy couple in exchange for not selling the land. Who would have thought that their connection would be loaded with heat and passion. They both experience mind-numbing pleasure which evolves into true love.
Lots of interesting twists and turns to follow throughout this story. Bruno's siblings create both conflict and kindness, which is intertwined well into the plot. Addison is a good listener and she finally gets Bruno to open up about his past, and to his complete surprise, she is supportive and non-judgmental. Ms. Falcone's ability to bring awareness to this type of situation is truly heartfelt and goes a long way. Overall, this is nicely-written book with honorable characters that I will not soon forget.
Book Info:

Published August 18th 2014 by Entangled: Indulgence
Passion was never in the bargain
Addison Reed lost her fiancé, but she'll do whatever it takes to protect his legacy. When the gorgeous and arrogant landowner, Brazilian billionaire Bruno Duarte, who is thwarting her at every turn, refuses to meet with her, she puts her plan into action. He will listen to her.
Bruno's plan was simple: return to Brazil and marry to fulfill his father's dying wish. But when his engagement crumbles, and he's then stranded with an idealistic woman hell-bent on saving a tribe of people on his land, he sees the perfect solution. If his feisty and passionate abductor agrees to a bogus marriage, he'll relocate the tribe.
With the Brazilian heat rivaling the growing heat of their desire, will Bruno and Addison abandon their respective plans and give in to each other, or will their differences tear them apart?